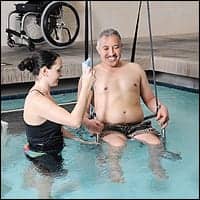 Therapist Miranda Conroy, PT, DPT, left, guides patient Joel Ramirez into the therapy pool.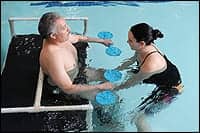 As Miranda Conroy anchors him in the water, Joel Ramirez works out his upper body with dumbbells made especially for aquatic exercise.
Aquatic therapy is not a new treatment for patients at Casa Colina Centers for Rehabilitation, located in the eastern Los Angeles County community of Pomona, Calif. Prior to opening its doors in 1938, $4,500 was raised to build an aquatic therapy pool for the new facility. The pool was designed for polio rehabilitation, after then-President Franklin D. Roosevelt sought aquatic therapy for his own post-polio condition at Warm Springs, Ga. Roosevelt even christened Casa Colina the "Warm Springs of the West."
Today, Casa Colina offers a unique continuum of care at its 20-acre medical and rehabilitation campus, and many of its patients use the therapy pools, where they participate in group sessions or one-on-one therapy sessions. Since the center has a high ratio of outpatient clientele, Casa Colina's therapy pools are located in its outpatient facility, and are used by patients receiving treatment in departments throughout the campus, including the Transitional Living Center (which provides post-acute rehabilitation in a short-term residential setting and a day treatment program), the Children's Services Center, the Adult Day Health Care Center, and Outdoor Adventures. Patients have, in fact, been transferred to the facility specifically for its aquatic therapy program.
On most days at Casa Colina, the aquatic therapy pools are filled with physical and occupational therapists treating a broad spectrum of patients, ranging from toddlers to senior citizens. Casa Colina has two indoor therapeutic pools that are open 6 days a week. To meet the therapeutic and diagnostic needs of each patient, there is one warm pool (94º) and a cooler pool (84º). With four different methods of entering the pools, Casa Colina is well equipped for safe pool access for all patients. Most patients enter the pools using stairs and handrails. Casa Colina also provides a lift in which patients can be transported into either pool by a pool chair (250-pound limit) or a sling (750-pound limit), which is necessary for bariatric patients. These devices are also used for patients who do not have the ability to sit up in the chair. A plinth is available for those who need to remain in a horizontal position.
FINDING THE RIGHT PROGRAM
Aquatic therapy at Casa Colina begins with patient evaluation performed with a physical or occupational therapist on land. A plan of care is established and functional goals are set based on the evaluation findings. If aquatic therapy is indicated, the focus will be to meet the functional goals that are set with the patient. Indications for aquatic therapy may be: difficulty walking; unable to perform sit to stand transfers without assistance; impaired balance; difficulty, inability, and/or pain with stair climbing; weakness where the patient is not strong enough to work against gravity; and/or poor tolerance to exercise out of the pool. Patients live out of the water, so once they are able to accomplish functional activities in the pool, the goal is always to transition to land to further develop needed functional goals. Some patients benefit from a program that alternates land and pool visits.
For most conditions, especially chronic conditions, one of the long-term goals is for a patient to be able to continue a long-term maintenance program once independent of their program. Maintenance programs are available for a small fee when aquatic therapy is no longer deemed a medical necessity. There is also an independent program for patients who have been through Casa Colina's aquatic therapy program in the past. The pools are not available for public use, aside from special programs. (Casa Colina also offers a 6-week education and exercise Fibromyalgia Program that uses the pool as part of its course, as well as a community autism group that uses the pools through Casa Colina's Outdoor Adventures program.)
For more information about the aquatic program and additional services offered at Casa Colina Centers for rehabilitation, go to www.casacolina.org.
The list of diagnoses that benefit from aquatic therapy are numerous, and include neurological and balance disorders such as spinal cord injuries, multiple sclerosis, stroke, traumatic brain injuries, Parkinson's disease, arthritis, and many others. These therapies are also beneficial for orthopedic injuries and diagnoses such as chronic pain, pre- and post-total joint replacements, and status post fractures. In the past couple of years, Casa Colina's aquatic therapy staff has seen an increase in rehabilitation requests following rotator cuff injuries and surgeries, S/P humeral fractures and S/P total shoulder replacements, pregnancy, fibromyalgia, lymphedema, and pulmonary rehabilitation. Pediatric patients with autism, cerebral palsy, juvenile rheumatoid arthritis, and sensory integration issues are also benefited by time in the pool.
WATER EQUIPMENT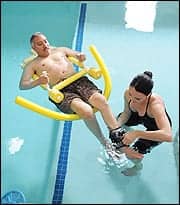 Working with ankle weights helps build lower body strength and muscle tone.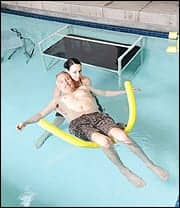 The weightless environment of aquatic therapy is beneficial in a variety of levels for individuals with physical limitations.
Various equipment is used in the pool and what a patient uses is dependent on many factors. We have noodles and dumbbells, which are used as both buoyancy-assisted and buoyancy-resisted equipment. We also use ankle weights, paddles, and other equipment that either increases the weight of the limb or increases the surface area as it moves through the water. Walkers and other supporting devices are used in the pool to assist with gait. Belts, neck collars, and noodles are used for floatation in the deep water or a supine position. Balls, kickboards, and a balance board are used in the pool for various diagnoses and activities as well as a variety of toys for our pediatric population.
For a person with a spinal cord injury, the pool can be a powerful treatment tool. It allows the patient to be weightless, allowing movement without the effects of gravity. The exercise and movement in the water help increase circulation, and the hydrostatic pressure reduces swelling and helps improve edema. As patients move through the water, it gives them resistance, helping to improve muscle strength. For patients with spinal cord injuries, gait training can be performed in the pool. Functional activities such as working on supine to prone transitional movements can be done in the pool. Improving cardiovascular endurance is also a benefit of the pool. The ability to swim in the weightless environment is both beneficial aerobically as well as generally enjoyable for patients who may otherwise be confined to a wheelchair
Evidence-based research is limited in the field of aquatic therapy, but studies have been performed that show the benefits of aquatic therapy as both an effective treatment tool and long-term maintenance program. One study looked at the effectiveness of a water-based exercise program on Berg Balance Test scores in community-living older women. It concluded that a water exercise program performed two times a week for 6 weeks, consisting of active range of motion, walking, and strengthening, significantly improved Berg Balance Test scores in community-living older women.1 Another study that looked at water exercise performed two times a week in nursing at home residents showed improvements in ADLs such as bathing transfers and stair climbing at 2-year measurements when compared to residents who performed aquatic exercise only once a week.2
Australian-based MS Practice, an initiative of MS Australia, published a series designed to help health professionals effectively treat patients with multiple sclerosis. Included in the series is "Aquatic Exercise for People with Multiple Sclerosis," which provides "evidence based information and clinical practice recommendations to improve the quality of care and outcomes for patients living with multiple sclerosis."3
A study comparing the treatment of knee osteoarthritis using land and pool showed that hydrotherapy has been more beneficial in reducing knee pain and improving function than land-based therapy. It also showed aquatic therapy was superior to land in relieving pain before and after a 50-foot walk at 18-week follow-up.4 A recent pilot randomized clinical trial looked at a combination of aquatic and land-based therapy versus land therapy only regarding the outcome of total knee arthroplasty; it suggested that a combination of land and pool improves ROM after 6 weeks as well as provides better outcomes after 6 months than with land-based physical therapy only.5 Studies have also shown that an aquatic and land exercise program prior to a total hip arthroplasty improved pain and function following the surgery.6,7 Nontraditional uses of aquatic therapy for orthopedic diagnoses include using the pool for treatment following ACL reconstruction. Using the pool for ACL rehabilitation can especially be useful early on. The outcomes between land and pool showed no difference when comparing knee PROM, thigh girth, and quadriceps femoris muscle performance after 8 weeks. The pool was superior to land at 8 weeks in regard to less joint effusion in the pool group and higher outcome goals.8 In a different study, aquatic exercise was shown to be more beneficial than land exercise in patients with chronic low back pain. The water-based exercise group produced better improvement in regard to disability and quality of life.9 Kim and colleagues (2010) published a study that looked at lumbar extensor strength also showed that backward walking in the pool was as beneficial as progressive resistance exercise for improving lumbar extension strength in patients after lumbar diskectomy surgery.10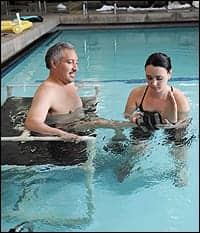 When aquatic therapy is indicated at Casa Colina, the focus is to meet functional goals that are set by the patient.
Safety of patients and staff is a major concern at Casa Colina: The facility is Medicare-certified and accredited by The Joint Commission; Department of Health guidelines for pool maintenance are closely followed; pools are cleaned daily, and chemical levels and the temperature are taken three times daily. In addition, before they are allowed to treat patients in the pool or supervise the deck, staff are required to pass aquatic competency, which includes teaching them how to use the lift, test the chemicals, and rescue and exit a patient from the pool in an emergency situation. They must also pass a written test on the policy and procedures of the pool. All staff are CPR and AED certified. Additionally, Casa Colina's policy states that there must be two staff members in the pool area at all times while patients are in the pool. When patients are on the pool deck or in the locker rooms, a staff member must be in the pool area.
Barriers to aquatic therapy for patients who may otherwise benefit from aquatic physical therapy include incontinence, tracheotomies, open wounds, active infections including urinary tract infections, and/or severe intolerance to exercise. Another precaution but not contraindication to our aquatic program is seizure disorder. Patients can use the pools with both catheters and colostomy bags. Also, persons with a spinal cord injury who are on a regular bowel and bladder program can use our facility. Being able to swim is not a requirement to be successful in the pool, but severe fear can be limiting especially for diagnoses such a balance disorders that require patients to be unsupported in the pool to challenge their balance.
Aquatic physical therapy provides both an effective and enjoyable treatment experience for most patients. As the therapeutic wave of the future, continuous evidence-based research is needed to advance awareness and support of the efficacy of this water-based physical and occupational therapy.
---
Suzy Johnson, PT, is a certified aquatic therapist at Casa Colina, Pomona, Calif. For more information, contact .
References
Roller J, Johnson M, Jones E, Hunt H, Kirkwood W. Effectiveness of a water-based exercise program on Berg balance test scores in community-living older women. Journal of Aquatic Physical Therapy. 2008;16(1):1-5.
Sato D, Kaneda K, Wakabayashi H, Nomura T. Comparison of 2-year effects of once and twice weekly water exercise on activities of daily living ability of community dwelling frail elderly. Arch Gerontol Geriatr. 2009;49:123-8.
Coxhead E. Aquatic exercise for people with multiple sclerosis. MS Practice. 2009. MS Australia. [removed]www.msaustralia.org.au/documents/MS-Practice/aquatic.pdf[/removed]. Accessed April 9, 2010.
Silva L, Valim V, Pessanha A, et al. Hydrotherapy versus conventional land-based exercise for the management of patients with osteoarthritis of the knee: a randomized clinical trial. Phys Ther. 2008;88:12-21.
McAvoy R. Aquatic and land based therapy vs land therapy on the outcome of total knee arthroplasty: a pilot randomized clinical trial. Journal of Aquatic Physical Therapy. 2009;9:8-15.
Rook DS, Huang J, Bierbaum BE, et al. Effect of preoperative exercise on measures of functional status in men and women undergoing total hip and knee arthroplasty. Arthritis Rheum. 2006;55:700-08.
Wang AW, Gilbey HJ, Ackland TR. Preoperative exercise programs improve early return of ambulatory function after total hip arthroplasty: a randomized, controlled trial. Am J Phys Med Rehabil. 2002;81:801-6.
Tovin B, Wolf S, Greenfield B, Crouse J, Woodfin B. Comparison of the effects of exercise in water and on land on the rehabilitation of patients with intra-articular anterior cruciate ligament reconstructions. Phys Ther. 1994;74:710-19.
Dundar U, Solak O, Yigit I, Evcik D, Kavuncu V. Clinical effectiveness of aquatic exercise to treat chronic low back pain: a randomized controlled trial. Spine. 2009;34:1436-40.
Kim YS, Park J, Shim JK. Effects of aquatic backward locomotion and progressive resistance exercise on lumbar extension strength in patients who have undergone lumbar diskectomy. Arch Phys Med Rehabil. 2010;91:208-14.