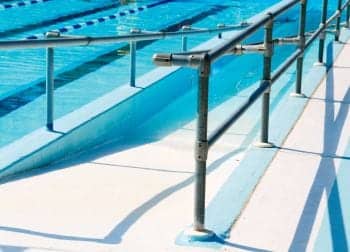 For many clinics, the addition of a pool can create opportunities for expanded revenue and therapeutic versatility, as well as open up new avenues for marketing.
For many physical therapists, investing in a therapy pool with an underwater treadmill, adjustable water depth, resistance jets, camera, and easy-entry stairs, lift, and/or ramp might seem a great way to provide aquatic therapy to their clientele. And, for those therapists, that assumption would be correct. However, many never consider the almost-unlimited options available to them when it comes to recovering a return on their therapy pool investment, not to mention the incredible community relations and marketing boost a pool can provide.
The marketplace is challenging: Competition hovers around every corner; compliance and health care standards are frequently modified; and uninsured adults are not necessarily happy to pay for what they deem "nonessential" health care such as physical therapy. Keeping these facts in mind, it is critical for physical therapists to seriously look at how they can move toward a model that truly maximizes use of their facilities and abilities. This requires a willingness to let go of "What has always been done?" thought patterns and move into a "What is the 'next generation' of what we can offer?" mentality.
Our practice recognized the time had come to purchase a fully accessible therapy pool with embedded underwater treadmill, resistance jets, and video camera. We reviewed numerous studies that pointed to the benefits of tried-and-true aquatic therapy techniques, such as those that use devices—such as flotation belts, kickboards, and body weights—mixed with underwater treadmill technology. The science behind the pool we chose convinced us we were making a wise choice.
One of the studies that drove our decision came from Utah State University researchers who concluded adults with osteoarthritis could receive the same aerobic conditioning as on land by exercising on underwater treadmills. The test subjects reported, however, they experienced less joint pain and greater mobility improvements using the underwater treadmills. Another study by Mary E. Sanders, PhD, FACSM, RCEP, and Baryl Lawson, PT, DSc, suggested athletes who participate in water rehab and land-based post-rehab have better scores on postural sway (indicating better balance) and experienced fewer episodes of reinjury than their counterparts who rehabbed only on land.
In the end, we had no doubts a therapy pool would be a smart purchase. The next step was to determine how to broaden our clinic's reach.
THERAPY POOL + UNDERWATER TREADMILL = SUCCESSFUL DIVERSIFICATION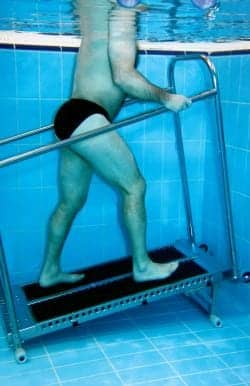 Sharing a therapy pool can provide effective word-of-mouth marketing for the clinic.
Within a few weeks of having the therapy pool in use, it became apparent it could create considerable revenue and provide excellent versatility. At ACCUA, our Minnesota-based facility, the therapy pool is used not only for physical therapy but also for personal training sessions, community group rentals, and more. Below are five of the primary methods we have used to break through the common perceptions that this pool is "only a therapy pool," and build inroads into our region and make the most of advanced aquatic therapy equipment.
1. Offering Supervised Underwater Treadmill Exercise to Former Physical Therapy Clients
A good number of the clients physical therapists work with day-in and day-out have such positive results that they want to keep coming back if they can. In our case, we have had quite a few past patients—from younger, competitive runners to senior citizens—whom we charge a fee to use our underwater treadmill as a way to stay in shape post-rehabilitation.
We are not interested in taking business away from our local health clubs, but we do see an opportunity to enhance what they can offer. The therapy pool with built-in underwater treadmill, resistance/massage jets, and easy entry (per government-based accessibility parameters) is not an amenity our clients can find elsewhere. Thus, we strive to keep our usage fees affordable and the underwater treadmill accessible to adults who need it, and who want to continue to benefit from the same technology that some of Minnesota's professional sports teams utilize for rehab and conditioning purposes.
Somewhat surprising is that sharing our therapy pool has turned into effective word-of-mouth marketing for the clinic. Clients, for example, may tell their friends who are recreational or advanced runners about the facility, and those individuals in turn call us. Because these unsolicited clients are typically individuals who already have a training program in place, there is little we need to do beyond maintaining the equipment and ensuring the scheduling calendar is up-to-date. This situation, in our experience, creates a clear win-win.
2. Offering Therapy Pool Rentals to Outside Physical Therapists
Currently, we are one of two facilities in our area that has a handicapped-accessible therapy pool with underwater treadmill and resistance jets. That status has afforded us the opening to rent time in the pool to physical therapists who want to expand their reach. This arrangement has provided excellent advertising for our facility and enables physical therapists to improve the treatment they offer to their patients. While they are free to use the therapy pool for standard aquatic therapy methods and regimens, having the underwater treadmill, camera, and resistance jets enables them to enhance their clients' outcomes.
Renting to other physical therapists also puts our clinic's name on the lips of physicians who refer us because of the diversity of our amenities and our reputation for staying ahead of the curve. Essentially, we have taken away their risk, and doing so enables us to reap financial and goodwill benefits.
3. Offering Therapy Pool Rentals to Teams, Coaches, and Personal Trainers
In addition to renting to physical therapists, we also rent our "open" therapy pool time to local colleges' athletic departments. In general, teams come to train in our therapy pool and use the underwater treadmill in the evening or on weekends. During the day, we have only about 25% downtime, so it is more convenient for their schedules to come after normal business hours. After the athletes become accustomed to working with our equipment, they may use it on their own. The same applies to personal trainers who bring their private clients.
Thus far, this policy has created no issues because of our practice of vetting the teams, coaches, and personal trainers beforehand.
4. Offering Specialty Programs to Specific Groups
Specialty programs may offer opportunities for many physical therapists to stand out and make extra income from use of a therapy pool.
One example of this possibility has been the creation of a program to help hemophiliacs creatively—and securely—stay healthy for a lifetime. Hemophilia can be particularly hard on the joints; consequently, exercise in an aquatic environment, including running full speed on an underwater treadmill, even with the resistance jets, is a safer alternative to land-based, high-impact exercising for those who have the blood disorder.
Because we are a small company without rigid internal guidelines, we have been able to provide hemophiliacs with opportunities to work out in our therapy pool with its underwater treadmill and resistance jets. Our physical therapy and fitness programs designed for hemophiliacs have gained national attention and have been highlighted in several publications. Had the clinic not chosen this particular type of therapy pool the program would not have been successful.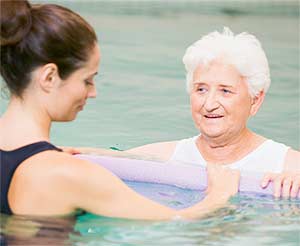 Some clinics may be able to offer affordable aquatics-based physical therapy to those who are unemployed or who lack insurance.
5. Offering Out-of-Pocket Aquatic Therapy Fees to Patients
We are also able to provide aquatics-based physical therapy designed to be affordable for those who are not employed or who lack health insurance. These individuals get the most advanced care possible at a rate that aims to work for them financially. Our diversification and income stream from other areas are primary reasons we can work with this group of patients in this manner.
CONSIDERATIONS FOR COMPLIANCE
Plans for pool installations should include considerations for a lift or ramp as means of entry and exit to comply with accessibility regulations under the Americans With Disabilities Act (ADA). Included in the list of accepted built-in and portable access modes are sloped or zero-entry ramps, transfer walls, and transfer systems. Also on the list are accessible pool steps, pool lifts that can accommodate basic chair lifts, hoists, and spinal boards. Lifts can be added as installed in-ground devices, portable models, and manual-lift models.
BE BOLD, BE SMART, BE SUCCESSFUL
A therapy pool with underwater treadmill has been invaluable to attaining our clinic's goal of promoting preventive care rather than focusing 100% of our attention on intervention If your physical therapy routine has become stale, or your clientele seems to be drying up, it may simply be time for a bold move. With smart planning and openness to trying new ways to open doors and build relationships, it is always possible to obtain success.
---
Jeffrey Kallberg, PT, has been a physical therapist since 1994 and is co-founder of ACCUA (www.accua.net). Kallberg and his brother launched ACCUA with the goal of making aquatic therapy more accessible to "ordinary" people. Kallberg travels nationwide to motivate and teach families dealing with hemophilia about joint disease, and to promote physical therapy and fitness. For more information, contact .
ACCESS FOR ALL: POOL LIFTS REQUIRED BY LAW FOR ENTRY AND EXIT
As aquatic therapy programs gain popularity facility owners and managers must make considerations for pool accessibility, and getting patients who may have impaired mobility in and out of the water. Now that the Americans With Disabilities Act (ADA) is fully in place, pool accessibility is no longer a question of convenience, it is required by law.
To comply with the new regulations, swimming pools with less than 300 linear feet of pool wall must provide one means of access in the form of a pool lift or sloped entry. Pools built with more than 300 linear feet of pool wall are required to offer two means of access: a pool lift or sloped entry. Among the accepted built-in and portable access modes are the following: sloped or zero-entry ramps, transfer walls, transfer systems, accessible pool steps, pool lifts that can accommodate basic chair lifts, hoists, and spinal boards. Lifts are available as in-ground (installed) or portable designs, and are available as battery-powered or water-powered. Manual-lift models are also available, offering standard-, hi-lo-, and extended-reach lifting capabilities.
There are also maintenance guidelines under the ADA regulations that require accessible pool features—such as a portable lift—to be in working condition so that individuals with disabilities may access the pool whenever it is open to others. Portable lifts are also required to be fully operational and at poolside during all open pool hours.
The ADA guidelines suggest that for pools that offer more than one means of entry, those means be different from one another, and located in different areas. Only one lift is required for use with spas.
Product selections are multiple and varied, and pool administrators in the public sector who are planning new pool facilities, or existing pool revisions, must consider a variety of requirements, budget restrictions, coding, and model selections prior to making a purchase. Once these structures are in place, however, the benefits of buoyancy and tempered warmth aquatic therapy provides become available to all.
Facility managers and others involved in the purchase and installation of a pool can learn more about the Department of Justice's ADA Standards for Accessible Design (2010) by reading the full document at [removed]www.access-board.gov/ada-aba/ada-standards-doj.cfm[/removed])
—Frank Long, Editorial Director, Rehab Management