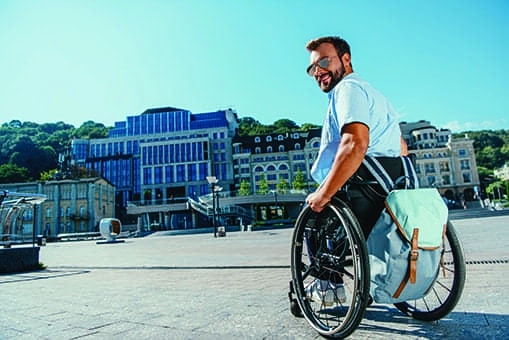 by Frank Long, Editorial Director
Keeping a finger on the pulse of custom seating is all part of the job for rehab clinicians. But, with a development cycle that moves continuously, the options can change quickly for products in high demand such as cushions, positioning hardware, and electronics. Even seating evaluations themselves are seeing the effects of these developments as new technologies for pressure mapping entering the market. The landscape shifts, and solutions that perhaps were not available for a mobility user yesterday may very well be on the market now.
To help bring our readers up to date about current custom seating and positioning technologies, Rehab Management invited a panel of manufacturer representatives to share insights about this product category. Read on and find out what's new and what is just around the bend from the following industry professionals: Steve Kohlman, President, Aquila Corporation; Karl Schultz, Product Manager, Freedom Designs; Glen Fridenstine, Seating and Positioning Product Specialist, PinDot Custom Seating; Tom Whelan, Vice President, Product Development, Ki Mobility; Sam Hannah, ATP, Sales Manager, Symmetric Designs; and Andrew Frank, Chief Operating Officer, Vista Medical Ltd.
What has been the most significant, recent improvement to your custom seating technologies, and what drove the development of that improvement?
Steve Kohlman, Aquila Corporation: Our most recent improvement in both our custom APK2 and SofTech cushions are the upgrade to the electronics and the Bluetooth wireless remote control. Our clients have told us they like things simple and some were confused by the adjustable cycles and firmness, so the new electronics are simpler, offering three firmness adjustments and a fixed cycle time. Our SofTech also has a redundant power switch on the cushion for turning on and off as an option to the remote.
Karl Schultz, Freedom Designs: Improvements in our fabrics and upholsteries offered as a result of listening to our customers. Freedom Designs continually updates our portfolio. We now offer fabrics and materials which employ state-of-the-art technologies and processes which provides our customers with increased comfort, improved health (through enhancements like anti-bacterial coatings), as well as more contemporary color choices and patterns.
Glen Fridenstine, PinDot: PinDot has streamlined the ordering process. We brought portable 3D scanning capability, which we call the CLIP, to the market. This allows customers to capture the shape of their client in under 1 minute, where in the past it could take 20 minutes using a mechanical digitizer or an hour to make a plaster cast. This has given our customers the ability to mold and capture the shape of their client and now choose between both PinDot product lines. Customers can choose from ContourU or Silhouette cushions. Previously, a molded client could only use the ContourU product.
Tom Whelan, Ki Mobility: Ordering custom seating and complex rehab wheelchairs separately can cause issues and increase costs. Ki Mobility entered the custom seating market with the launch of Axiom Custom Seating in order to offer our customers the ability to get custom seating systems preinstalled on wheelchairs in our continuing effort to make our customers' jobs easier.
Sam Hannah, Symmetric Designs: Free Form Seating is now HCPCS coded E2617 for Medicare. Having this code has opened up the market for Free Form and allows providers to fit a custom molded modular backrest to many more clients than before, especially children and those with changing postural support needs. We have simplified our custom seating system as much as possible to provide ATPs, therapists, and seating technicians with a quick and easy way to fit custom backrests, all with one tool.
Andrew Frank, Vista Medical Ltd: Recently we rolled out the New BodiTrak2 sensor generation. While still based on our stretchable fabric the BT2 sensors enable long-term monitoring and control of the patients' entire environment. The electronics are a quantum leap forward in its size reduction and power. Each BT2 sensor now not only has all the electronics to manage the sensors' operation but also a complete IoT capability. It's all of the BT sensor capability plus the equivalent of a powerful single-board computer with integrated WiFi. Power to control any other IoT device on the network in the home, clinic, or neighborhood. In essence, the user can tell other devices what to do through our application and electronics. All in a PCB 1.25-inch square. Just add a battery and you're assessing or monitoring your patient. This is brand new technology and opens whole new vistas of opportunity.
What are your top custom seating products, and why have they been successful?
Steve Kohlman: Our top products, the APK2 and SofTech cushions, are excellent at healing existing sores, which is why they are successful. Our cushions generate movement which changes pressure distribution and provides pressure relief—the key to preventing pressure sores. Customization methods include offloading under sores while the alternating action stimulates circulation to perfuse tissue. The results speak for themselves when clients compare our cushions to others they have used. The HCPCS code is E2609.
Karl Schultz: Freedom Designs' Simply Seating line of solid seat and back inserts gives the dealer/supplier a simplified and cost-effective approach to providing products which utilize advanced materials and bundle commonly added components and features. By bundling items and features, quoting, ordering, funding, and fitting becomes more streamlined and time-efficient. Additionally, Freedom Select gives Freedom Designs' customers a fresh approach to products that they have come to trust and rely on over the years. With improved and redesigned takes on old standards, Freedom Select's line of products give a fresh and contemporary aesthetic to several of Freedom's positioning products. Anterior chest supports, pelvic belts, foot and ankle positioners, as well as other items have been given a refreshed look and improved fit and function.
Glen Fridenstine: PinDot offers three custom products, all HCPCS Coded E2609 and E2617.
ContourU cushions create an individually shaped surface for optimal support and stability captured through a custom mold. The precise fit provides exceptional pressure redistribution and positioning. Internal custom fabricated supports in aluminum or ABS Plastic provide the level of trunk support desired.
Silhouette cushions provide contouring that improves positioning and balance through a custom mold or simulation. These cushions are precise fit, custom carved cushions that are offered in soft, firm, and extra firm foam options to cover a variety of support and comfort needs. These cushions are lightweight, have a sleek design, and provide optimal support for the active user.
Silhouette Custom Basic cushions have all the same options as the Silhouette cushions, but no molding or simulation needs to take place. These cushions allow you to design a cushion to fit the needs of the user. Start with pre-captured shapes, use the measurements from your mat evaluation, and specify any needed modifications through the PinDot Seatmaker software or fill out an order form and let PinDot do the design for you.
Tom Whelan: Our full line of products and our ability to offer a custom aluminum base as an alternative to typical plywood construction give ATPs something different to meet their customers' needs.
Sam Hannah: Free Form Seating (HCPCS E2617) is our modular custom seating solution. It has been successful in North America and around the world by offering an effective alternative solution to traditional foam-in-place and ABS molded custom backrests. The adjustability, growth potential, ability to adapt to postural changes, breathability, and low profile are all attributes that contribute to its success as a new custom seating technology. Free Form's development is all thanks to feedback from seating professionals. We were able to create a product that addressed their frustrations with the length of time it takes to create and then receive a custom seating system and the lack of adjustability once it is received.
We also manufacture the Savant Headrest, which is a customizable gel head positioning system.
Andrew Frank: Our most successful products from numbers of sales recently has been the BodiTrak Lite and now BodiTrak2 Lite, now wireless. It's very easy to use, Android based, battery powered, and available at an affordable price.
BodiTrak Pro is still the system of choice for seating clinic professionals. It's a robust and easy-to-use assessment, comparison, and documentation system for seating assessments. Scanning, recording, data organization, and sharing is easier with the horsepower and file structure of a PC and MacBook. Combined with the BT2 wireless sensors means no more cables to computers to worry about.
What new products, product improvements, or added services do you plan to roll out in 2019 or beyond?
Steve Kohlman: Our next improvement will be a smartphone app for remote control. We will also be offering a power chair model for both the APK2 and SofTech cushions that will use chair batteries for the power source.
Karl Schultz: Freedom Select will continue to see additions to the product line throughout 2019 as we redesign and refresh a number of our positioning components and accessories. We also intend to roll out a simplified and more user-friendly product portfolio throughout 2019 as we reduce redundant products and continue to refresh our product offerings. Freedom Designs is committed to maintaining our position as the custom-configured seating and positioning products company of choice.
Glen Fridenstine: PinDot has integrated the Matrx line of back shells for perfect fit and precise orientation within the chair.
Offering a custom Silhouette cushion that is precisely fit into a Matrx back shell has brought custom fit lightweight foam option with the adjustability and optimized support of the Matrx shell to provide comfort, stability, and skin protection for the more active user. Offering a ContourU cushion in a Matrx back shell is designed for the highest level of support and stability for users with the most complex positioning needs. Multiple options are available to fine tune for extra skin protection and positioning needs.
Tom Whelan: Continued expansion of our Axiom Custom Seating line will include many new items, including an expanded range of soft goods, headrest, and hardware interfaces.
Sam Hannah: 2019 will see Symmetric Designs as one of the leaders in complex positioning, both for the head and trunk. In 2019 we will have a new line of headrest pads and headrest hardware which will cater to a full spectrum of positioning needs. We will also continue to improve Free Form Seating to provide more options and solutions for every sort of scenario.
Andrew Frank: With the launch of BodiTrak2 the power, small size of electronics and our experience with our ReST Smart Bed in consumer bedding, true sense and respond seat cushions are a reality. BT2 systems have an available API layer which means it's very simple for other seating solutions to add the sensing capability of BT2 to their systems and applications. By combining this with WiFi capabilities we can gain new understandings about the challenges wheelchair riders face and the solutions that can match the need.
We are also launching a whole new line of balance systems that can assess a person's balance and stability, sitting, standing, or on treadmills. You can also drive a wheelchair up on to a sensor and instantly see if the loading on the wheels is appropriate, axle to castors and right to left. RM