Drive DeVilbiss Healthcare, Port Washington, NY, announces the addition of the Low-Height, Semi-Electric, and Manual Crank beds as part of its Premier Homecare Bed collection.
All three beds feature durable, heavy duty, polyethylene molded bed ends that are embossed with "HEAD" and "FOOT" to help ensure proper assembly. The bed ends are also compatible with existing Full- and Semi-Electric beds.
"Along with the enhanced molded bed end covers that provide a more homelike appeal, these new beds retain time-tested design features and construction durability for long-term use and dependability," says Joe Oberle, Director, Product Management – Homecare Beds & Patient Room, in a media release. "With a true 'Good, Better, Best' homecare bed portfolio, Drive DeVilbiss continues to lead the way by addressing all customer needs and price points."
The Full-Electric Low-Height (15005LP) bed is designed for residents who are at a higher risk of falling out of bed and features a 3-Motor Full-Electric Low-Height Bed with quiet motors that smoothly adjust the head and foot sections and overall bed height to provide maximum resident comfort and ease-of-use for the caregiver. The low deck height can roll at any height (14.81 inches to 22.83 inches) or roll at low height only (11.81 inches to 19.83 inches).
The height adjustment and head/foot deck motors come pre-installed on the foot section and do not require assembly. In the event of a power failure, the top mounted Hi/Lo and manual cranks can override the sleep surface adjustments. An extension kit that extends the bed length from 80 inches to 84 inches is also available.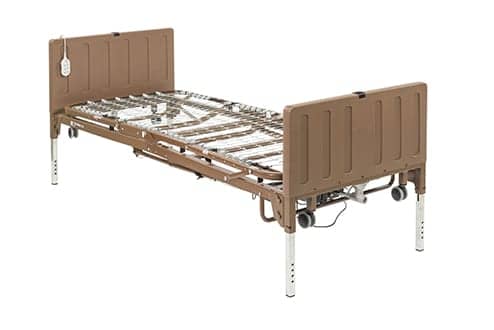 The 2-Motor Semi-Electric Bed (15004P) features a large, durable hand pendant with user-friendly controls for adjusting the head and foot deck sections simultaneously. The height of the bed can be manually adjusted using the Hi/Lo hand crank. An extension kit that extends the bed length from 80 inches to 84 inches is also available.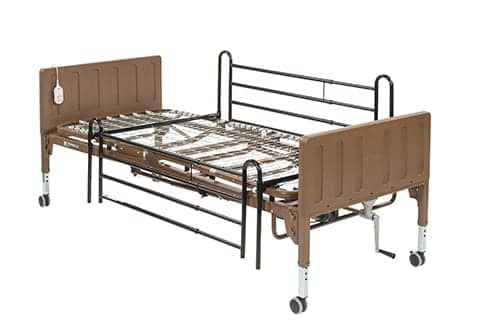 The 3-Crank Manual Crank Bed (15003P) is a hospital-style bed. Its height and deck can be manually adjusted using the fold-down hand cranks.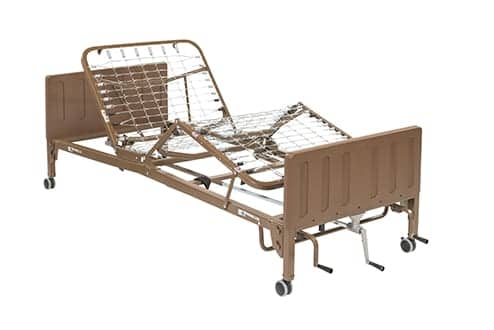 All bed packages include optional full or half rails and mattress combinations, and are capable of supporting up to 450 pounds. The reinforced bed frames are engineered to help provide strength and reduced weight due to their construction, while the spring deck is zinc-coated to provide durability and to reduce corrosion effects.
For more information, visit Drive DeVilbiss Healthcare.
[Source: Drive DeVilbiss Healthcare]