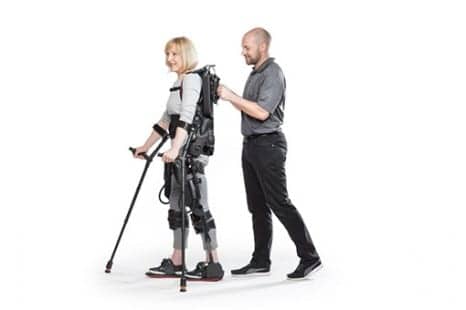 Via the worldwide adoption of its EksoGT exoskeleton, stroke and spinal cord injury patients have been able to take 100 million steps to date—the equivalent of 50,000 miles, or the distance of walking around the world twice, Ekso Bionics Holdings Inc estimates.
More than 240 leading rehabilitation centers in over 30 countries are utilizing the EksoGT to advance both inpatient and outpatient rehabilitation, and collectively changing the standard of care to promote better patient outcomes, according to a company news release.

The EksoGT is designed to help patients get back on their feet by supporting re-learning of correct step patterns, weight shifting, and potentially mitigating compensatory behaviors, enabling patients to mobilize earlier and restore independence.
It features SmartAssist software, which provide adaptive amounts of power to either side of a patient's body—something that can be especially beneficial for stroke patients.
In addition, it provides the ability to mobilize patients earlier, more frequently, and with a greater number of high-intensity steps, the release continues.

"Ekso Bionics set out to change the standard of care in rehabilitation with unparalleled exoskeleton technology," says Jack Peurach, CEO and president of Richmond, Calif-based Ekso Bionics. "And, thanks to our Centers of Excellence and other leading rehabilitation centers, together we were able to achieve the 100 million steps milestone."
"These centers are thought leaders and understand how to use our technology as a tool to improving the lives of their patients. We are excited to continue to grow the presence of the EksoGT worldwide so we can continue improving the lives of all of those who suffer a stroke or spinal cord injury," he adds.

[Source(s): Ekso Bionics Holdings Inc, GlobeNewswire]