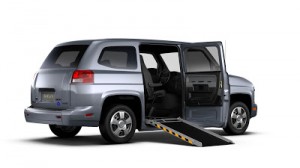 Described as a vehicle "designed specifically around those who use wheelchairs," the MV-1 from South Bend, Ind-based Mobility Ventures LLC has been named the first ever "Wheelchair Accessible" automobile in the National Automobile Dealers Association (NADA) Commercial Truck Guide.
According to a media release from Mobility Ventures, the firm's MV-1 meets all applicable Federal Motor Vehicle Safety Standards direct from the factory with no modifications. Furthermore, the release notes, the MV-1 is durable and cost-effective to own and operate, and dedicated to transporting all passengers, with or without mobility challenges.
"Mobility Ventures is now recognized by the National Automobile Dealers Association, which represents an important milestone for any automobile company, and we are proud to be included in this exclusive organization," said John Walsh, Mobility Ventures vice president for sales and marketing. "Entrance into NADA represents recognition of the shared values of commitment to quality service and the maintaining of the highest ethical standards. These values are embedded in our company culture, from the factory floor to the showroom to the aftermarket service provided to our valued customers."
While other accessible vehicles are converted to accommodate ramps and wheelchairs, the MV-1 was designed specifically around those who use wheelchairs. Among the notable characteristics reportedly associated with the MV-1 are a side-entry ramp, ample headroom, and the ability for wheelchair users to ride as front seat passengers.
NADA represents nearly 16,000 new-car and new-truck dealerships with about 32,500 franchises, both domestic and international.
[Source: Mobility Ventures LLC]