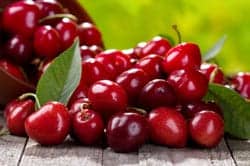 Research yielding from the University of Michigan (U-M) Cardioprotection Research Laboratory indicates that tart cherries may reduce the risk of stroke. During the study, researchers say they compared the effect of tart berries and the drug Actos in stroke-prone rats by measuring the animals' systolic blood pressure as well as locomotion, balance, and coordination. Following a range of physical tests, including walking on a tapered beam and climbing a ladder, the results suggest that compared to Actos, tart cherry intake significantly improved balance and coordination, while also lowering blood pressure.
Researchers add that while the results suggest that rats that consumed only tart cherries exhibited the best outcomes, rats that were given a combination of tart cherries and Actos demonstrated greater improvement than the animals that only received the drug.
While the results are promising for individuals taking the medications, E. Mitchell Seymour, PhD, supervisor of the Cardioprotection Research Laboratory, cautions that they cannot yet be applied directly to humans, but adds, "We weren't sure if the risk for stroke would decline in animals taking both tart cherry and the drug. It turns out that the cherries did have a positive effect even when combined with the medication."
Steven Bolling, MD, U-M cardiac surgeon, laboratory director, notes that the research builds on the group's prior research linking cherries to improved heart health, calling the study, "the first to [link] cherries to a reduction in stroke-related symptoms. It gives us a good pre-clinical model to further explore the positive stroke-related benefits of an anthocyanin-rich diet."
U-M adds that the study's results were presented today at the Experimental Biology 2013 meeting in Boston.
Source: University of Michigan Health System