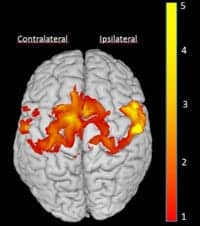 A recent study conducted by the University of Alabama at Birmingham (UAB), constraint induced movement therapy (CI therapy) in children with cerebral palsy (CP) may provide a significant increase in grey matter volume in areas of the brain associated with movement. Researchers note that the study encompassed 10 children with CP, between the ages of 2 and 7 who underwent a 3-week course of CI therapy. Changes in grey matter were reportedly assessed with a technique known as voxel-based morphometry (VBM), performed on images acquired through magnetic resonance imaging.
Chelsey Sterling, MA, first study author, graduate student, medical psychology, adds that researchers observed, "increases in grey matter volume in the sensorimotor cortices on both sides of the brain and in the hippocampus. These increases were accompanied by large improvements in spontaneous arm use in the home environment…" Sterling also notes increases in grey matter correlated with improvement in motor activity may raise the possibility of a casual relationship between the two.
A university news release reports that during the study, the children underwent intensive motor training for 3 hours each weekday for a 3-week period, with the less-affected arm being continuously restrained in a long arm cast. In the release, Edward Taub, PhD, reported developer of CI therapy and a study co-author, explains that that therapy has also been shown to be effective in improving the rehabilitation of movement following stroke and other neurological injuries in both children and adults.
"The motor improvement and changes in grey matter following CI therapy observed in this study are similar to those observed previously in adults. It is further evidence that the brain has a remarkable capacity to heal itself when presented with an efficacious rehabilitation intervention such as CI therapy," Taub adds.
The study appears online in Pediatrics.
Photo Credit: Pediatrics
Source: UAB