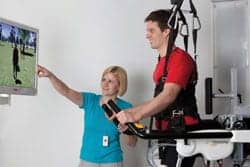 According to the updated Cochrane Review, researchers have observed significant evidence that suggests stroke patients undergoing a blend of robot-assisted gait training and physiotherapy have a greater likelihood of achieving independent walking than patients receiving only conventional gait training.
The Cochrane Reviews are systematic reviews of primary research in human healthcare and health policy, and are reportedly recognized internationally as the highest standard in evidence-based healthcare. During the new review, which provides an update to information first published in 2007, Jan Mehrholz, PhD, and colleagues conducted a meta-analysis.
The researchers included 23 randomized controlled trials comparing electromechanical and robotic-assisted gait training to normal care. A Hocoma news release notes that the trials encompassed 999 stroke patients of any severity and type. The Lokomat was used by 13 of the studies.
The results indicate that robotic gait training has a significant impact on a patient's walking ability. Stroke patients engaging in a combination of robot-assisted gait training and physiotherapy were shown to be more likely to achieve independent walking than patients receiving only conventional gait training, researchers say. The researchers add that the effect was most obvious in patients treated within the first 3 months of injury, as well as in patients who were not able to walk at the beginning of their therapy.
The results also suggest that non-ambulatory patients also significantly increased their walking velocity in response to electromechanically assisted gait training. Mehrholz and colleagues also reported that every fifth dependency in walking ability post-stroke might be avoidable if electromechanical-assisted devices were used.
While the results are promising, the release states that further research and information are needed regarding the most efficient frequency or duration of gait training and its successful integration into clinical routine.
[Source: Hocoma]