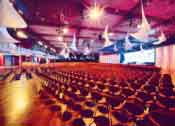 The International Neuromodulation Society (INS) notes that its 11th World Conference, "Technology Transforming Chronic Illness Management," expected to draw more than 15,000 participants, will run from June 8 to 13 in Berlin, Germany.The biennial scientific conference is geared toward providing a comprehensive breadth of all neuromodulation therapies to a target audience of participants from 6 continents. The Congress' opening reception is scheduled for June 9.
The conference, according to the INS, will feature multiple daily tracks designed to provide attendees with the latest data on neuromodulation therapies to treat medical conditions that include chronic pain, hypertension, stroke, spinal cord injury (SCI), and traumatic brain injury (TBI). The society adds that an internationally renowned faculty and clinicians, engineers, researchers, and company representatives are expected to attend the conference.
A recent news release notes that the final extended deadline for conference abstracts is February 14, 2013.
To learn more, click here.
Source: INS