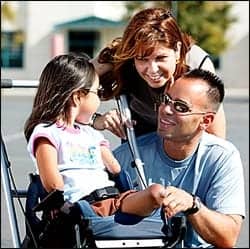 Caretakers must consider many issues when choosing an appropriate mobility system for young children.
Your funding source wants you to pick a system that will last 5 years. You want a cute, lightweight little system that will work in preschool, day care, the child's home, the mall, and the car trunk. How should you begin to decide? Here are some questions to ask and features to look for in strollers, dependent push systems, and pediatric wheelchairs.
Is this system just for quick trips or vacations because the child will be a functional ambulator?
Many parents receive or purchase a stroller before their baby is born and continue to use this stroller as they learn that their child might have postural control, neuromuscular, or learning issues. Many are reluctant to give up their "normal" dreams and their "normal" stroller. There are some decent after-market positioning systems that can help. Soft materials (like mesh sling seats) can interfere with digestion, breathing, and postural control. A medium-density material insert, with appropriate contours, can keep the child comfortable and safe while encouraging balanced muscle activity. When the child reaches age 4 and/or 40 pounds, they grow out of most "normal" strollers. When you look for a transport stroller, make sure it is lightweight, easy to clean, and easy to fold. A drink cup holder and a place to hang the bag with diapers and snacks are helpful. If the stroller will be used on a bus, make sure it is WC-19 compliant.
Will the child self-propel within the next 5 years?
This may be the only reason to choose a traditional adult-style wheelchair. Even then, consider a tiny reverse configuration so the child is close to the ground and has the best shot at self-propelling. These are best for kids with spina bifida, amputations, and/or other impairments that affect only the lower extremities. If the trunk or abdominal musculature or bony structures are involved in any way (arthrogryposis), add a torque enhancer. These power-assist wheel systems protect the shoulder, enhance independence, and foster a lifelong love of exploration.
Does the child have poor head control, autonomic nervous system dysfunction, or scoliosis, is at risk for skin breakdown, or cannot weight shift independently?
Tilt in space and recline options are heavy and expensive. Not everyone needs them. Some children can benefit from just a recline feature (a moderate increase in price and weight), while some children's needs can be met only with the tilt feature. The subset that needs both should be relatively small.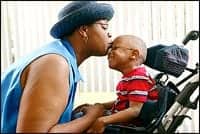 A child's mobility system should provide comfort and safety, while encouraging balanced muscle activity.
Tilt is for pressure relief (probably has to be at least 45°), postural drainage (45-90°), and lower extremity edema (area must be elevated above heart—so this really is a pipe dream). Recline is for head control (15°), to help keep a child who favors extension in the seat (also not very realistic), or to aid a child who has autonomic nervous system dysfunction (45-80°), scoliosis (45°), or weak trunk musculature. Some children prefer flexion (rather than pushing up against gravity) so we tilt or recline them 15° and ask gravity to help keep the child in the seating system. Recline is also very helpful for changing diapers, especially for an older child, for whom the only flat surface available may be the floor of the public restroom.
Another issue with tilt versus recline is the footprint (base) size. Most systems are extremely large, so that when they tilt, they will not fall over backwards. At least two manufacturers have changed this traditional design to rotate within the base. These tilt mechanisms are a better choice for most situations.
Do not expect the seating system to control "tone." If you believe "tone" is caused by a brain dysfunction or abnormality, then how could a seating system "fix" the brain? The newest model of "tone" or "extension posturing" is not one of "reflexes" that need to be integrated or inhibited, but looks more at the postural control of the child. Maybe the "extension posturing" you see is that child's attempt to maintain an open airway against gravity. Perhaps that is the only way the child can move, relieve pain or pressure, or communicate. It is possible that hypertonus is a compensatory mechanism for the inability to stabilize proximal segments against inappropriate muscle coordination, as well as poor anticipatory (feed-forward) control. If we believe that hypertonus is a learned response to compensate for poor neuromuscular control, especially the timing of muscle contractions, then the seating system should help give control, not stop the maladaptive movement. In this way of thinking, at least three manufacturers are adding springs into their seating components so that the chair allows the child to move into full extension or flex forward and then the spring assists the child to return to the neutral (preferred) position. These systems do not incur shear while they promote active movement and weight shifting. I believe that these systems represent a radical shift in design and will become more prevalent over the next few years (at least I hope so!).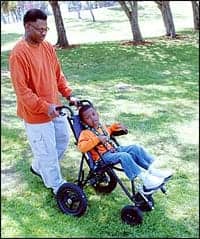 A transport stroller should be lightweight, easy to clean, and foldable.
Does the family or caregiver insist on a normal stroller-looking system or is the family or caregiver having difficulties accepting that the child will need a wheelchair?
Strollers are a short-term solution to a long-term problem. States and provinces are pulling back the funding for these items. The CMS definition of a stroller is that the device has four equal-sized wheels, so if you choose well, maybe you can still get what you and the family want. When looking for a stroller, you need to look from many angles:
City versus country translates into wheel size and durability
School bus versus car transport versus public transit translates into weight, tie-downs, and ease of folding
Where it will be stored translates into size and ease of folding as well as ease of cleaning (if it will be left outside on a porch or terrace)
Who will be using it (the caretaker) translates into need for a cup holder and storage for shopping, diapers, etc
Medical need of the child translates into need for vent tray, oxygen, or feeding pump storage, etc
Neuromuscular status of the child may mean that a stroller cannot give you enough support
Diagnosis is important because a child with a degenerative disease may look good now, but later on there may not be enough support.
Need for recline/tilt
Ease of cleaning (if the child will use the system for eating or has a lot of emesis)
Do you want a dependent push system that will last for 5 years or more? Will this be the child's primary seating system (in it for more than 6 hours daily)?
You may be considering a traditional adult-style wheelchair with smaller wheels (dependent push system). This allows you all the seating, cushion, and body support options you want, without the weight and bulk of two large wheels. All the other questions will need to be asked and addressed.
OVERALL CONSIDERATIONS
No matter what kind of system you are looking for, there are some particulars you should know before you start.
How does it fold? Does the seating system need to come off first? Does it fold flat or is it bulky? Does it fold front to back, side to side, or both (umbrella type)?
Do the wheels come off easily?
Can it fold and unfold with one hand?
How much does it weigh (anything over 15 pounds may be hard to lift high into a truck class vehicle).
What kind of seating system is offered? Are you stuck with a planar system with no contours?
What bases can be purchased with the system? Some come with a lightweight stroller base, a high chair base, and a classroom (high low) base.
Will you need a higher support headrest and can one be added? Check out compatible brands.
Can you get appropriate sized hardware? Do not order an adult-size seat buckle for a 2-year-old!
Does the system honor the spinal curve, hip angle, and pelvic shape of the child now and in 2 years? This is a period of rapid change in SHAPE, not just size. The spinal curves develop over the first 2 years of life, and the seating system must be able to change to accommodate, support, and encourage these changes.
The hips will need to start in about 15 degrees of abduction and external rotation to keep the femoral head in the acetabulum. Also remember that the ASISs are not rotated yet and cannot be used to control the pelvis. In a very young child, control is not even the goal—you need and want movement. The goal is to support the anatomy while staying out of the way of language, vision, and cognitive development.
DO THE RESEARCH
First, look at catalogs with images of European and Asian models. No system is perfect, but there have been some innovations made in other markets. These features are starting to be seen in the systems we are used to. The Japanese systems are tiny and lightweight. Irish designers have come up with some revolutionary contouring and postural control systems that are perfect for young children, while German engineers have used progressive materials for frames and cushions, and the Italians have great colors. Call your manufacturer's representative for a sample (or a few) and pick out your favorite features of each, then try to find the best fit for the child, the family, their lifestyle, and the budget.
Have fun!
Ginny Paleg, MS, PT, is a pediatric physical therapist in Maryland. She works part-time for Montgomery County Early Intervention, and teaches continuing education courses nationally and internationally.