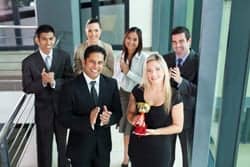 Numotion was recently recognized with the 2013 Muscular Dystrophy Association (MDA) Company of the Year award. A company news release notes that CEO Paul Bergantino accepted the award last month at the Connecticut Area's 16th annual Black and Blue Ball.
The funds raised this year are the highest in the history of the event, says Chasity Bothman, MDA Connecticut Area director. Bothman adds that a large portion of the funds will go to support "summer camperships," which assist in sending children with MDA to summer camps in Connecticut.
Scott Ritchotte, Numotion Area Vice President, calls the convergence of the industry and the community to promote independence and quality of life for children with MDA, "inspirational," and he adds, "We were proud and honored to be a part of it."
Bothman states in the news release that Numotion was recognized with the Company of the Year for a variety of reasons, including the company's assistance with the Black and Blue Ball, ongoing assistance with the mobility loan closets, and volunteer help at summer camps.
Mark Miller, vice president of Marketing and Strategic Partnerships, articulates Numotion's excitement in continuing its support of the MDA: "Our team is geared up to be involved and support many MDA events across the country, including Muscle Walks and summer camps in 2014."
[Source: Numotion]