How do you determine which degree is right for you?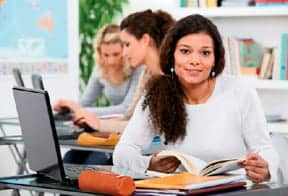 Have you ever considered advancing your current degree? Many of us have contemplated this at one time or another, which raises subsequent questions: Do you have the time? Do you have the interest? What kind of learner are you? What is the value of an added credential? And, ultimately, are you at a stage in your career where you are prepared to help others achieve their professional goals? These are all valid questions to consider when deciding to further your education.
Time. Time. Time. Most working professionals have pondered the dilemma of not having enough hours in the day to get everything accomplished. A very relevant quote rests on my desk in a plexiglass paperweight casing, "Life offers two great gifts—time, and the ability to choose how we spend it."—Richard I. Winwood (a notable author on the topic of time management). So simple and so true!
In the healthcare industry, most professionals agree that the patient comes first. It is their well-being that is sought after through all delivery of healthcare. This, of course, is a valuable use of time, but work also can include time away from the daily 9 to 5, building your education and teaching others to provide outstanding quality of services to the patient. The Doctor of Education (EdD) and the Doctor of Health Science (DHSc) degrees may be options for you as a nurse, physical therapist, occupational therapist, speech therapist, or other healthcare provider, who has earned a master's level degree and would like to expand personal knowledge and/or prepare to educate the next generation of healthcare specialists. But realize there may be varying prerequisites and/or requirements based on each individual institution's requirements. Frequently, these degrees are offered online and, because of this, finding the time to devote to studies might be easier than one might imagine.
Time Management
There are many valuable time management resource tools available at local bookstores and also online. Some include mindtools.com, Time Management from the Inside Out by Julie Morgenstern, and The Skinny on Time Management: How to Maximize Your 24-Hour Gift by Jim Randel, to name a few. These tools help individuals to analyze their time and as a result can help determine whether one can fit advanced degree coursework into daily life. It may be a lunch hour, evening time, or first thing in the morning when everyone is still asleep that a continuing student is able to jump online and study. It may be surprising for many returning students to discover just how much time they really do have to get started on an advanced degree.
The time necessary to devote to studying has been identified, and now the returning student will need to decide which degree is a good fit. Is it the EdD or DHSc degree? Outlining each degree can be helpful. The DHSc degree is characterized as one that emphasizes scientific knowledge to achieve health gain and results. It also can be a degree that leads a therapist into advanced clinical practice, or higher level administration and education. The EdD degree can be described as a terminal doctorate degree that has a research and/or professional focus. It prepares the student for clinical, educational, or research positions in education and beyond. Clearly defining the outcome that is most desired will help decide which degree to pursue.
The work is not finished by simply deciding on a specific degree and delivery method. The student also must decide which educational institution to choose. For this, it is highly recommended to conduct thorough research. Students may want to find a university focused on healthcare where there are opportunities to meet and work with other medical professionals, to help further facilitate professional growth and meet individual goals. Many institutions focus on K-12 educators, but returning students may desire to teach at the college level; so due diligence will assist an individual in selecting the academic institution that fits appropriately with the desired goal.
Online or in the Classroom?
In addition, delivery options should be considered. Will the returning student be required to attend regular in-person seminars or meetings in conjunction with online coursework? Is it important to have a completely online program with little or no required travel? These questions should be posed to program directors and admissions counselors before applying. Being fully informed before beginning the process will eliminate any surprises throughout the educational experience.
Are you a classroom or online learner? Some may believe they know the answer to this, but for those who are not sure, it is better to find out before the journey begins. The opportunities to share and seek out information has become almost endless. Technology has evolved in such a way that students can actually talk, communicate, and share from a living room, office, back porch—almost anywhere. It allows the face-to-face learner nearly the same experience as being in the classroom without the travel and cost that can easily be incurred. Among those for whom the thought of online learning is daunting, there may be surprise at how far the process has come and how the classroom experience can still be achieved even from an online program. There are many resources available at local libraries or online to help individuals identify the type of student they may be.
A Growing Field of Opportunity
What does an advanced degree mean on a personal level? Is it potential career advancement? College or university faculty member? Higher administration leadership? The opportunities will be what are made of them.
The following information is from the Bureau of Labor Statistics, and is quite interesting regarding the need for master's and doctoral degree occupations projected from 2010 to 2020:
Occupations that typically need some type of postsecondary education for entry are projected to grow the fastest during the 2010-20 decade. Occupations classified as needing a master's degree are projected to grow by 21.7%, followed by doctoral or professional degree occupations at 19.9%, and associate's degree occupations at 18.0%.
Many healthcare providers have found a nice balance between classroom/online teaching at a college or university and patient care. This combination can add to daily satisfaction by continuing to treat and remain hands-on with patients and aid them in their recovery. The earning of a degree is an added credential and can offer an individual the opportunity to share knowledge and experience about the profession that continues to provide a lifetime of career satisfaction. RM
Lori Hankins is director of Continuing Professional Education & Marketing at the University of St. Augustine for Health Sciences in St. Augustine, Fla. For more information, contact [email protected].