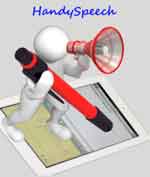 iSpeak4U has released a new, improved version of a handwriting-to-speech application for iOS devices, engineered as a conversational tool to assist individuals with speech difficulties. The HandySpeech application is designed to remember frequently used phrases, learn the user's handwriting style, as well as understand cursive, print, and mixed writing styles.
HandySpeech is engineered to accommodate patients with a range of speech and language impairments, including individuals who have sustained a stroke or brain injury, amyotrophic lateral sclerosis (ALS), Muscular Dystrophy, and autism. Its newly available Version 3 provides a variety of features, including a new user interface based upon the latest iOS7 operating system, a new speech engine for faster, clearer, conversation, and handwriting recognition improvements.
Phrases can also be recorded through handwriting, the company says, in addition to typing input. The company adds that the HandySpeech application can be used on any Apple mobile devices and is readily accessible via Wi-Fi or cell phone connection.
For more information, visit www.ispeak4u.com
[Source: iSpeak4U]