Deciding on the perfect complex power mobility device can be a challenge for the client, the caretaker, and the therapy team. Ideally, the equipment should address not only the person's physical needs, but their safety, lifestyle, and budgetary limitations. Here is where the therapy team's time and expertise are most valued.
Offering a unique approach to "customer service" is Seating Solutions, in Orange Park, Fla, an outpatient occupational therapy clinic specializing in wheelchair mobility and seating equipment, assistive technologies, rehab durable medical equipment (DME), and home modifications. Services are provided not only in the outpatient clinic, but also in the comfort of individuals' homes. The community-based service enables the staff to practice a holistic approach to patient care and recommend the most appropriate equipment to meet individuals' needs. The clinic offers services to the young adult, adult, and geriatric population, and includes patients with neurological injuries and progressive diseases, such as spinal cord and traumatic brain injury, ALS (Lou Gehrig's disease), multiple sclerosis, muscular dystrophy, spina bifida, cerebral palsy, Parkinson's disease, and stroke. Seating Solutions began as a community-based private practice in 2001—meeting the need for such an establishment in the Jacksonville community. In addition, when it comes to complex power wheelchairs, Seating Solutions does not limit specialty wheelchair evaluations to the clinic setting.
COMBINING BOTH COMMUNITY- AND CLINIC-BASED SERVICES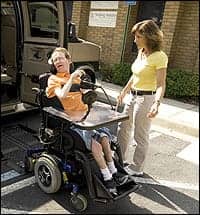 Therapist Cindi Petito, OTR/L, ATP, CAPS, guides patient Daryl Austin into his handicap van.
When patients are in need of a complex wheelchair and seating evaluation by a clinician, there are a few things I take into consideration, including the medical complexity and needs of patients and the insurance requirements for coverage of the recommended equipment. Approximately 75% of our power wheelchair services are provided in the home, and I cover several counties, traveling rural areas in north Florida.
Specialty power wheelchair evaluations, trials, fittings, and training are offered in patients' homes for several reasons. When I compared them, how patients perform in a clinic setting is totally different than in their own home. When completing power wheelchair evaluations, equipment trials, and training, community-based services are extremely valuable because this is where I see first hand how individuals function in their mobility-related activities of daily living (MRADLs) in their home. If MRADLs at the power wheelchair level are tried only in a clinic setting through simulations, several important pieces of information may be overlooked or the clinician may not be able to actually see the "true" functional tasks that individual has to complete in order to regain or maintain independence. Second, patients who are home bound must have these services completed in their home. In rural areas, transportation to an outpatient clinic may require several hours of driving that these individuals cannot tolerate. One example is persons with ALS. These individuals have significant fatigue with little activity or exertion. Being transported to a clinic is just too exhausting, and most times is too difficult to be managed by a caregiver. Another reason is the ability to assess the home environment. This will ensure the recommended power wheelchair is conducive to the areas of the home where it will be needed for MRADLs prior to the physician signature on the detailed product description (physician's order). Lastly, with the significant changes in Medicare policy and documentation requirements for power mobility devices, home assessments allow me to easily assess any current or prior equipment that patients cannot use or bring into a clinic. This allows us to provide important information in our documentation regarding situations where replacement or upgraded equipment is needed.
More information on power mobility solutions can be found on this website – search our archives.
The outpatient clinic setting is also valuable when completing complex power wheelchair evaluations. Seating simulations may be needed prior to making the final recommendations. It can be difficult to complete this step in the home without making several visits and prolonging the process. Because we want to offer equipment options, patients can come into our clinic for seating trials and see multiple rehab manufacturers' product lines and have choices.
THE STEPS FOR COMPLEX POWER WHEELCHAIR SERVICES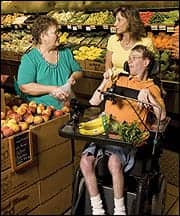 Daryl Austin is able to grocery shop with his mother, Jenny Austin. Petito provides community skills training that involves activities required in everyday life.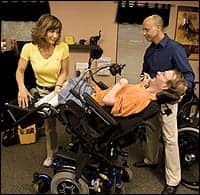 To ensure independence in pressure relief with use of the power tilt seating system, Petito and T.J. McEnany, ATP, make modifications to Daryl Austin's seat system and joystick controller.
Initial Visit. We receive referrals from durable medical equipment suppliers, physician groups, hospitals, state-funded agencies, and individuals or their families. Depending on the medical complexity and needs of our patients, the initial visit that includes the specialty wheelchair evaluation is usually completed in the home. Some insurance companies do not pay for outpatient therapy services in the home, and these patients are required to come into our clinic for these services.
As part of our rehab team, the specialty wheelchair evaluation includes the patient, family, and caregivers; the clinician who is an experienced wheelchair specialist/ATP (assistive technology professional); and the durable medical equipment supplier who is an sATP (supplier assistive technology professional). The physician is also a member of the rehab team and involved in the process.
During this visit, we complete a lengthy occupational therapy evaluation and specialty wheelchair assessment. This visit takes on average 90 to 120 minutes, depending on the medical complexity of the patient:
Physical and Functional Skills. This includes a physical assessment of the upper and lower extremities, gross and fine motor coordination, sensation, motor control, muscle tone, spinal asymmetries, and postural deformities. It may also include assessment of ambulation, balance skills with the use of a cane or walker, ability to self-propel a manual wheelchair, and ability to operate a power scooter (POV).
Seating Measurements/Mat Assessment. Measurements are taken using the surfaces available inside the home. If an in-depth mat assessment needs to be completed, sometimes this is difficult if there is not an appropriate surface for the patient to lie on. Using a portable mat table for these situations is an option when a patient is home bound and cannot be transported to our outpatient clinic.
Activities of Daily Living/MRADLs. Mobility-related activities of daily living is a Medicare term for the common ADLs, which occupational therapists already evaluate and treat. Here the focus is on assessing patients' skill level in specific ADLs that need to be completed from the power wheelchair. Goals are documented in patients' plan of care to reflect the MRADLs that will be augmented or regained with use of the recommended equipment.
Skin Integrity. Past medical history or current wounds to the seat area are assessed. Sometimes home health agencies or wound care centers have to be contacted to obtain wound care documentation if the physician has no knowledge of wound.
Cognitive and Visual Perception Skills. These two assessment areas are important to ensure the patient can safely operate the recommended equipment.
Current and Past Use of Equipment. This is completed when patients have a significant change in their medical condition and need modifications or upgrades to their existing equipment. With complex power wheelchairs, this may include the need to upgrade from a proportional joystick controller to an alternative drive control, such as a head array, chin control, or sip & puff.
Environmental Barriers and Accessibility. As mentioned above, this is an important part of our wheelchair assessment process to ensure the recommended power wheelchair is conducive for use and functional inside patients' home. This may include recommendations, such as ramps, widening of doorways, and furniture rearrangement.
Transportation Type. This includes assessment of existing handicapped-accessible vans or exterior vehicle lifts that are used to transport the power wheelchair.
COMPLEX POWER WHEELCHAIR TRIAL VISITS AND SEATING SIMULATIONS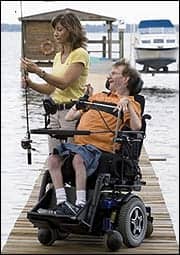 Therapist Cindi Petito assists with preparing Daryl Austin's fishing rod to catch some St Johns River redfish.
During these next visits, which vary with each individual, the clinician and DME sATP determine equipment recommendations based on patients' functional abilities and outcomes of each visit completed. Patients, family, and caregivers also have involvement in the equipment selection process. We make sure all members of the team are involved in each step of the process and allow our patients to have choices. The physician involved has to concur with the equipment recommendations. The information that needs to be gathered during these visits determines if these visits are completed in the home or in our clinic. These visits may include power wheelchair trials, assistive technology trials with alternative drive controls, seating simulations, or custom molding and first fittings. When a patient has an existing handicapped van or lift system, we make the effort to complete a trial with the recommended power wheelchair to ensure there is compatibility and avoid problems after delivery.
I prefer to complete complex power wheelchair trials in the home because these patients and their caregivers have care routines that are extremely individualized. For example, a patient with spina bifida may have a specific technique for toilet transfers from a power wheelchair not commonly seen and can be demonstrated only in the home. For patients who already use manual or power mobility, avoiding major changes in their day-to-day routines is crucial. Making the wrong equipment decision can impede function of the end user and be costly to the rehab DME supplier. I believe in making the effort to get it right the first time.
FINAL FIT AND TRAINING VISIT
Once the recommended complex power wheelchair is ready for delivery, arrangements are made with the patient, family, caregivers, clinician, and DME sATP to complete the delivery visit for fitting and training. The number of visits needed also varies with each patient and may include additional follow-up visits for training depending on the complexity of the equipment. Also, patients who have multiple caregivers may require an additional visit for training with a caregiver who was not present during the prior visit. With complex power wheelchairs with alternative drive controls and custom seating, further visits are usually required for additional training and modifications to make sure they are optimally configured.
For a complete list of vendors in the power mobility industry, see our online Buyer's Guide.
The clinician is involved in the fitting process to ensure the seating system and drive controls fit appropriately and maximize independence of the end user. Once the fitting with the seating system is complete, we begin patient and caregiver training in MRADLs in the home. This may include self-feeding, grooming, dressing, transfers in the bedroom and bathroom, toileting, and meal preparation in the kitchen. The DME sATP is present to complete any electronic programming modifications as necessary to ensure the power wheelchair's drive controls are optimally configured for safe driving.
Our complex power wheelchair services include a range of three to five visits per patient. As patients age or have changes in their medical condition, we follow their cases and encourage them to return to us for equipment or seating modification evaluations as needed. Once an individual becomes our patient, they are a patient for life.
---
Cindi Petito, OTR/L, ATP, CAPS, is the founder and owner of Seating Solutions, Orange Park, Fla. For more information, go to www.SeatingSolutionsInc.com.