A Model of Excellence
by Melissa Abate, LMSW, Amy Berryman, OTR, MSHSA, Kenny Hosack, Amanda Ikard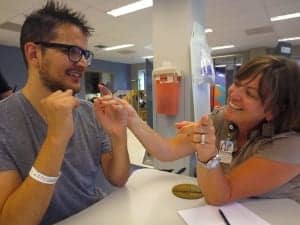 Craig Hospital is a private, nonprofit freestanding hospital that has been providing rehabilitation for patients with brain injury since 1976, making it one of the oldest and most experienced brain injury rehabilitation programs in the country. Each year, Craig treats approximately 175 inpatients with brain injury from approximately 35 states, and at any given time treats 30 to 40 inpatients with brain injury, and many more outpatients. Since 1998, Craig's brain injury and research program has been designated a Model Systems Center by the US National Institute on Disability and Rehabilitation Research (NIDRR), and since 2006 has been the NIDRR TBI National Data and Statistical Center.
Trauma is the cause of injury among most of Craig's brain injury patients, but on a case-by-case basis Craig also treats young people who have other types of atypical acquired brain injury (ABI), such as cerebral vascular accidents (CVAs), aneurysm, cerebral arteriovenous malformation (AVM), hypoxic ischemia, or anoxia. Craig provides a comprehensive system of care for patients with brain injury: from the initial days after injury, through inpatient and outpatient treatment, home and community-based services, and long-term follow-up. Craig is equipped to provide care for newly injured patients, 16 years of age and older, with moderate to severe brain injuries, with all levels and types of medical, physical, cognitive, and behavioral challenges.
Early Intervention After Brain Injury
Craig Hospital has a close relationship with many local, regional, and national trauma centers; many referrals are made from these centers. A clinician from the Craig admissions department visits each potential referral and provides a pre-admission clinical evaluation. The clinical evaluation supplies information to insurance providers regarding the current status of the patient and justifies the need for inpatient rehabilitation. An additional benefit of pre-admission contact with potential patients is the education provided to the current care providers and to the family members involved in making a decision about rehabilitation. These visits help get patients more prepared for an inpatient stay at Craig. Craig Hospital also provides medical direction at the Centura-St. Anthony's Central Neurotrauma Unit and other local long-term acute care centers to help prepare patients to be medically ready for inpatient rehabilitation. This also helps to minimize medical complications that can slow down the rehabilitation.
Additionally, direct collaboration with neighboring Swedish Medical Center gives Craig Hospital direct access to state of the art diagnostic, laboratory, surgical, and subspecialty services. These services can be coordinated early in a patient's stay to help patients become medically stable more quickly, enabling them to focus on their rehabilitation.
Craig Hospital's Model of Inpatient Brain Injury Rehabilitation
Craig Hospital's model of inpatient traumatic brain injury rehabilitation is based on a team approach. A treatment plan is built on an understanding of the patient's neurological diagnosis and functional prognosis, as well as the relationship between the injury and functional behaviors. Additionally, the treatment plan is reviewed and adapted within the context of the patient's personality, goals, resources, environment, and the community to which the patient and family will be discharged. Team rounds are conducted weekly to review a patient's progress and goals. A family conference is conducted monthly and case planning and behavioral meetings are conducted as indicated. Working together, this interdisciplinary team strives to maximize physical, cognitive, behavioral, and emotional functioning and to prevent/minimize chronic disability.
The length of inpatient stay is highly individualized, depending on the severity of the injury and the rate of improvement. Typically, length of stay ranges between 30 and 90 days, depending on diagnosis, severity of injury, rehabilitation goals, and medical complications.
The Interdisciplinary Team
Upon admission to the Traumatic Brain Injury Program, each patient and family is assigned to an interdisciplinary team of experienced clinicians. Initial evaluations are conducted by each team member, and the patient, family, and clinicians begin to set rehabilitation goals. Leading the Brain Injury (BI) team is Alan Weintraub, MD, who has been the BI Medical Director since 1986, and directs one of Craig's two BI Treatment Teams. Michael Makely, MD, directs the other BI team. Dr Weintraub and Dr Makely and their CNS physician partners provide full-time primary medical care. Craig has approximately 150 consulting MDs and practitioners in the area that they can call on when needed for individual patient issues.
The inpatient clinical staff on the traumatic brain injury teams consists of experts in treating the early stages of recovery from a brain injury. Therapists average 13 years at Craig. Each inpatient team has the patient and family at the center of focus, and includes rehabilitation nurses, rehab techs and behavior attendants, neuropsychologists, speech and language pathologists, physical therapists, occupational therapists, therapeutic recreation specialists, respiratory care, a school tutor, driving evaluators, dieticians, a community reintegration specialist, patient and family service counselors, a broad-based medical consulting staff, insurance adjustors, and case managers.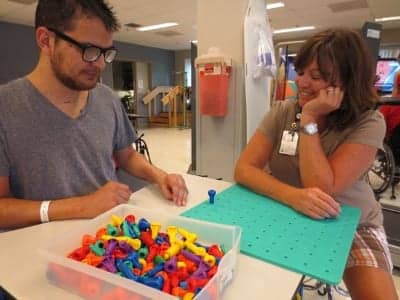 Most therapy at Craig Hospital is provided on a one-to-one basis by licensed therapists. These therapists have five to seven patients on their total caseload at any one time. In the facility's Upper Extremity Room additional focus can be made on upper extremity management. (Image courtesy of Kayla Lawson)
Inpatient Rehabilitation Units
The physical design of the inpatient program is centered around two units on a single floor at Craig Hospital. All clinical services and even the dining facilities are in close proximity to the patients' rooms. This design increases efficiency and creates a safe, supervised, and structured environment. The West Unit is designed to closely monitor patients for safety, while still allowing them access around the unit. The unit is monitored with cameras and a bracelet monitoring system, but it is not locked. Patients who require a locked facility are referred elsewhere.
The units also have two therapy gyms, as well as smaller, less stimulating therapeutic areas: the "T-Zone," a self-contained supervised activity room, and "Quiet rooms" in which individual therapy or co-treatments (more than one therapeutic discipline providing treatment simultaneously) can be provided without distraction. In addition to direct nursing care, a team of behavior attendants (BAs) provide individualized structure and assistance to the patients, as needed, with the goal of providing the least restrictive environment possible. Behavior attendants are nursing techs who specialize in helping monitor and guide behavior. They are trained in-house and are able to engage the patient more than a traditional "sitter" because of this training. As patients progress, they may move to the East Unit where they will continue to gain independence and begin the transition home, while still having access to acute hospital care.
The brain injury program leadership recently guided an interdisciplinary task force to help improve the therapeutic environment for patients recovering from brain injury. Several key interventions were added to our team culture as a result, including adding scheduled rest breaks for patients whose behavior and performance worsen with fatigue, creating activity kits for BAs to use with patients in their downtime, flagging any patients who need a low stimulation environment, and having two people present when transferring any patient who uses restraints for safety. In addition to these interventions, education was provided by the task force to each of the hospital departments (clinical and nonclinical) to raise awareness of the unique needs of people recovering from brain injury.
The inpatient brain injury program focuses on ongoing education for staff, patients, and caregivers, and evaluation of the best practices for patients and families. Best practices are explored partly through the use of Continuous Quality Improvement (CQI) projects. The most recent CQI project included research, evaluation, and interdisciplinary training and education on the use of the Coma Recovery Scale-Revised (CRS-R) for patients emerging from coma. An interdisciplinary task force evaluated all of the potential scales available for minimally conscious patients and decided to pursue the CRS-R. They applied for an education grant to bring the designer of the CRS-R, Joseph Giacino, PhD, to Craig Hospital for a 2-day training to build competency in this area.
Therapy Classes
Most inpatient therapy is provided on a one-to-one basis by licensed therapists. These therapists have five to seven patients on their total caseload at any one time. In addition, to holistically meet goals, a variety of group classes are provided by the interdisciplinary team.
These daily or weekly classes and programs include:
• Mat Class: Group exercises for people in the early stages of mobilization
• Power Hour: For people working on higher level balance, coordination, and endurance
• Be Loose: A group class designed for families and caregivers to learn how to properly stretch their loved one
• Speech Group: Working on conversational activities
• Orientation Group: A daily group at the start of the day to assist patients in daily orientation and the use of their planner
• Upper Extremity Activity Room: Additional focus on upper extremity management using electrical stimulation, and splinting.
• Cognitive Skills Group: Functionally based and hands-on group activities
• Project Group: An interdisciplinary group with Therapeutic Recreation to challenge socialization, direction following, and leisure engagement
• Cooking Group
• Horticultural Group
• In-house Direct TV Educational programs
Specialty Clinics
In addition to therapy classes, a wide range of Specialty Clinics are utilized to meet the diverse needs of patients. These clinics include:
• Spasticity Clinic: Spasticity and tone management by an interdisciplinary team
• Vision Clinic: Evaluation and treatment of visual disturbances by a neuro-optometrist and occupational therapist
• ENT Clinic (Ear, Nose, and Throat): Evaluation and treatment of vocal cord, voice, and airway issues by a otolaryngologist and speech language pathologist
• Neuropsychiatry: Evaluation and recommendations from a neuropsychiatrist designed to manage behaviors and improve functional participation in rehabilitation therapies
• Hand Clinic: Evaluation and management of orthopedic and neurological upper extremity issues with orthopedic hand specialists and an occupational therapist
Family Inclusion and Involvement
Brain injury rehabilitation involves not only the patient, but the patient's family and support system. For this reason, since 1968 Craig has had a philosophy and practice of family inclusion and involvement. Craig welcomes families, and there are no restrictive visiting hours. Families are encouraged to stay in the on-site Family Apartments with the first 30 days at no charge. Families are strongly urged to observe and participate in therapy sessions and to attend educational programs about traumatic brain injury. The Clinical Care Management Department (formerly called the Patient and Family Services Department) exists to provide patients and families with counseling, assistance with insurance issues, help in applying for public benefits, and discharge planning.
Following a catastrophic traumatic brain injury (TBI), there is a plethora of logistical, insurance, and psychosocial issues that can be overwhelming to patients and families. Craig's clinical care managers are responsible for working with families on all of these concerns. In many other facilities, these tasks are divided among several staff, which we believe can lead to fragmentation and miscommunication. The care manager on each team helps families navigate their insurance, creates the best discharge plan possible, and provides supportive counseling and education. They are a patient/family counselor, advocate, care team liaison, and life coach. The holistic approach creates a point person for families and an anchor to begin to process the logistical and emotional implications of life following brain injury.
A weekly Family Education/Support group provides a venue for the focus to be on the family, and provides a place for family members to share their experience with others. Family members form a community together, surrounded by others who have similar questions, concerns, and fears about the future. This community often lasts long after families have returned to their home communities.
Therapeutic Outings
Interdisciplinary and therapeutic outings are a core part of the program. Patients and families practice real-world skills in supportive environments and take advantage of the Colorado weather and easy access to nearby restaurants, shopping, parks, and outdoor activities. A variety of therapeutic outings are provided for patients involving each of the therapeutic specialties (physical therapy, occupational therapy, therapeutic recreation, and speech therapy). Families are encouraged to accompany patients on therapeutic outings. The most recent outing was a breakfast outing for patients who needed to practice socialization skills. The outing leaders (the individuals on the interdisciplinary team take turns leading) created a potential list and shared during inpatient rounds. A form was generated with the patients and their individual goals for the outing. Several therapists signed up to assist as spotters, and they helped the patients select items from the menu and guided conversation to allow for ample socialization practice. Other common outings include bowling, hiking, visiting local museums and attractions, playing lawn games at the park, and functional shopping activities.
The therapeutic recreation program is vitally important in providing applied reality-based therapy at Craig and in the community. The quality of the recreational opportunities provides patients and families with experiences to stay emotionally and physically healthy. Additionally, The Digby Friendship Center exists on campus for families to host social gatherings in a homelike atmosphere.
Post-Inpatient Care
Craig currently offers outpatient treatment for patients who have graduated from their inpatient program. A program for graduates who need re-evaluation or recommendations several years after their inpatient stay also exists. The outpatient models the interdisciplinary collaboration of the inpatient model, with a strong focus on community reintegration. Craig Hospital maintains relationships with community organizations that also provide long-term services and support for brain injury survivors, including the Brain Injury Alliance of Colorado, The Hangout (a community social and support group run by survivors), community-based day programs, and financial assistance organizations for brain injury survivors such as the Colorado TBI Trust Fund.
Culture
Perhaps the most valuable and powerful component in the rebuilding of interrupted lives is the culture of Craig. Culture is comprised of a diverse set of values, policies, practices, traditions, and rituals. Culture is a warm and caring feeling that is palpable and pervasive when one comes through the doors of Craig. For staff, working at Craig is a calling, a passion for assisting others to get back to living as independently and as productively as they can. Many staff members have been patients at Craig or have had family members or friends as patients—a fact that keeps them ever sensitive to the morbid reality that they are all a car wreck away from being a patient at their own hospital.
For years, Craig has analyzed its culture in an attempt to codify and articulate what makes it so special and so powerful. It involves staff pursuit of excellence, staff understanding of Craig's history and traditions, the ability to listen and have empathy and respect for others, and the ability to share in the pain and hope of others. Culture involves maintaining an upbeat, positive atmosphere throughout the hospital where humor and laughter are encouraged as therapeutic. It is the formation of a "community" for both staff and families. Craig patients and their families are "graduates" of the program and often return as alumni to mentor new families, to participate in community events, and to share their ongoing successes and life events. The sense of belonging to something bigger than one's self is what makes Craig Hospital unique for patients, visitors, families, and staff. The power of this culture is seen in their patients and families as they continue to strive to be "all that they can be" following a catastrophic injury. The staff consistently works together to enhance the lives of their patients and families through ongoing education and community involvement.
Awards
Craig has been ranked in the Top Ten Rehabilitation Hospitals for 24 consecutive years by U.S. News and World Report and in 2011 and 2013 was ranked as the #1 Rehabilitation Hospital in the United States by the American Nurses Association (ANA) for achieving outstanding nursing quality, based on the nursing performance measures in ANA's National Database of Nursing Quality Indicators. Craig is proud of the recognition it has received, and its staff members continue to strive for ways to improve the programs the facility offers for patients it serves. RM
Melissa Abate, LMSW, has been a Clinical Care Manager on the inpatient brain injury team at Craig Hospital for more than 8 years. She has been a social worker for 13 years.
Amy Berryman, OTR, MSHSA, has been the Occupational Therapy Program Supervisor in the TBI Program at Craig Hospital for the past 5 years. She has been building her expertise in TBI rehabilitation for the duration of her 13-year career as an occupational therapist.
Kenny Hosack is Director of Provider Relations at Craig Hospital. He has been in the field of SCI and TBI rehabilitation for 34 years in a variety of clinical, administrative, and marketing positions at Craig Hospital.
Amanda Ikard is a student at Boston College and a summer intern at Craig Hospital. For more information, contact [email protected].