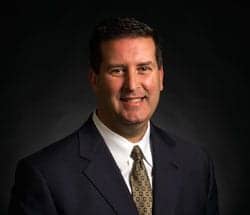 Andrew Pyrih was recently selected by Pride Mobility Products Corporation, headquartered in Exeter, Pa, to serve as its senior vice president of domestic sales. In his new role, Pyrih will reportedly place a primary focus on the strategic development of Pride's retail mobility business while also collaborating with Jay Brislin, MSPT, vice president, Quantum Rehab, in an effort to streamline the vision and sales growth of the company's product lines.
Pride Mobility notes in a company news release that Pyrih holds 20 years of health care sales and operational expertise. Prior to Pride, Pyrih served as regional vice president at Landauer Metropolitan Inc. The release notes that Pyrih also holds experience working with companies such as Apria Healthcare, Option Care Inc, and Caremark Inc. According to Pride, in his most recent position as regional vice president at Landauer Metropolitan Inc—a respiratory therapy, home medical equipment, and infusion services company—Pyrih was responsible for the overall sales and operations of the company's Misd-Atlantic Region and was also elected to the Board of Directors for the Pennsylvania Association of Medical Suppliers.
Scott Meuser, CEO, Chairman, articulates the company's excitement in welcoming Pyrih. "We are a company that is very determined to overcome the regulatory challenges in our industry by getting stronger. I believe Andrew is the right person to help us do that by providing leadership needed to take Pride's sales effectiveness and efficiency to the next level," Meuser says.
The release notes that Pyrih earned a bachelor of science degree from Philadelphia College of Pharmacy and Science, initially starting his career as a registered pharmacist prior to transitioning into clinical sales.
[Source: Pride Mobility Corporation]