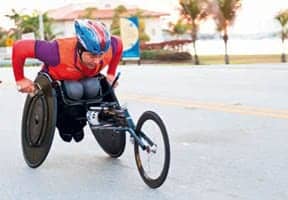 By Kirsten N. Davin, OTD, OTR/L, ATP, SMS
In recent years, the number of individuals affected by disabilities who choose to participate in sports and athletic activities has increased dramatically. Partaking in sports, be it competitive or recreational, is a valuable tool in maintaining physical and mental health and is beneficial for nearly everyone. As a result of this influx and increase in such activities, the wheelchair world also has experienced a significant amount of growth in the sport chair, tire, and accessory industry.
MAINTAINING AN EDGE IN SPORT AND SAFETY
While the vast majority of therapists and end users are familiar with the realm of manual and power wheelchairs, many have not been properly acquainted with sport wheelchairs, which tend to be significantly lighter in weight than a standard manual wheelchair and are much better designed for the stressors of sports and competition. Especially when considering competitive wheelchair sports, it is imperative to acquire the proper equipment, and closely evaluate the benefits and liabilities associated with various components such as the frame design and construction, tires, and wheels. Acquiring a sports wheelchair specifically designed for an athlete's sport of choice not only provides a greater edge, but ensures the chair will withstand the rigors of sports play and provide safety, stability, and strength.
Although sports wheelchairs are not intended for everyday use, and are generally specifically designed for a particular sport and environment, such as a court, roadway, or rough terrain, some individuals do use them as their sole chair. The majority of sports chairs are designed based on feedback from the end users, wheelchair athletes, and experts in the field, who personally use the equipment and have the capability to offer first-hand knowledge, praise, and constructive criticism about the qualities and components that comprise the chair.
As a rule, sports wheelchairs are aerodynamic in design and developed specifically with strength, durability, and safety in mind. Their ultra-lightweight design provides the user with increased response, speed, and agility within the chair, and, over time, will reduce the risk of cumulative trauma and shoulder or wrist injuries. Many are adjustable, although most are comprised of a rigid frame, which provides the user with a greater amount of energy transfer. In short, the rigid frame has fewer movable and removable parts, so energy from the user's upper extremities during self-propulsion transfers to the wheelchair with increased efficiency, giving the user improved drive and longevity. Conversely, the rigid frame also can pose issues with transportation, since the frame itself does not fold up, and cannot be as easily transported.
CHAIR MATERIAL BENEFITS AND CONSIDERATIONS
A topic that recently has stirred debate among the wheelchair community is comparison of benefits between wheelchairs manufactured with aluminum and wheelchairs manufactured with titanium. Although many users instinctively lean toward titanium as a quick-draw answer to the preferred style of chair, it is important to evaluate the composition of chairs made from both materials, since each has its own inherent benefits and liabilities. As a raw material, aluminum is actually lighter than titanium, although titanium is inherently much stronger, therefore even though titanium as a raw material is heavier, it takes less of it to create a wheelchair frame because of its inherent strength, resulting in a wheelchair that is lighter than its aluminum counterpart.
It is also important to consider that titanium is more costly to acquire and more difficult to work with, resulting in increased production and labor costs. Whereas the difference between an ultra-lightweight sports chair and a standard manual wheelchair's weight can mean great gains for the wheelchair user in the long run, the difference between the weight of titanium and aluminum in regard to self-propulsion efficiency is fairly minute. Titanium's vibration dampening qualities are important to note, as they will provide the user with a smooth ride, reduce the shock to the user, and therefore reduce fatigue and increase efficiency. Aluminum is inherently more stiff and inflexible compared to titanium, therefore providing the user with increased rigidity and stability. In contrast, titanium does not experience work-fatigue, but the material becomes brittle with age and can potentially break.
CAMBER IS KEY
Whereas it is imperative to select the proper tire design and tread configuration for the style of chair and intended use, it is also necessary to consider the use of camber. The incorporation of camber on a manual chair, regardless of whether used in sports or everyday life, can greatly improve the user's efficiency and overall performance. There are a variety of benefits to be gained from cambering the wheels of a manual chair, although those benefits' potential drawbacks must be carefully weighed, since some liabilities exist.
Whether implemented in the manufacturing process, or achieved through the use of an after-market feature, sports wheelchairs generally are comprised of camber in which the rear wheels of a manual wheelchair are capable of being adjusted to a position in which the top portion of the wheel and, subsequently, the hand rim are positioned more closely to the user, while the base of the wheel is flared or angled away from the chair frame. This technique, otherwise known as cambering the wheels, has several notable advantages related to drive, performance, and positioning. Generally, camber is adjusted in increments of 3 degrees, and the typical, everyday wheelchair user will generally benefit from a rear wheel camber of 9 degrees to 12 degrees, although it is not uncommon to see sport users have camber in excess of 20 degrees to allow for better drive, response, and quicker, tighter turns on the court.
As a result of the top portion of the wheel being placed close to the user and the base of the wheel positioned at an angle away from the user, a wheelchair with camber will naturally present with a wider base of support and subsequently provide the user with increased lateral stability, which may be a huge asset on the wheelchair rugby league or wheelchair basketball court. Camber also results in a lower rolling resistance, which allows users to experience better efficiency, speed, and response from the wheelchair, thus improving overall drive and performance. An additional benefit of camber is supplementary hand and finger protection. When a wheelchair user self-propels a manual wheelchair that does not have camber in place, the individual runs an increased risk of hand and finger injury because the hands and fingers are the widest part of the chair. This position can result in scrapes, scratches, and the occasional significant injury when the hands are used to grasp the hand rims and proceed through doors, onto ramps, or through tight spaces. When self-propelling a wheelchair with camber, the tops of the wheels, along with the hands, are situated closer to the user's body and the chair frame, making the widest part of the wheelchair the base of the wheel, and reducing or eliminating the risk of injury.
Despite the benefits of camber, there are some disadvantages associated with incorporating camber to a manual wheelchair or sport chair. Again, the good news is that adding camber will widen the chair's base of support and provide greater lateral stability to the user, although a drawback exists in the environmental limitations this creates. Simply stated, if the user was cutting it close in terms of getting through doorways prior to incorporating camber, they may not be able to navigate narrow thoroughfares following camber's inclusion. In addition, over time, if tires with a standard tread design are not rotated equally, the user may experience uneven tread wear, which may lead to traction loss and self-propulsion issues.
TREAD BOLDLY
To circumvent tread wear issues and potential traction loss, several wheelchair tire manufacturers have developed tires comprised of an off-set tread, to eliminate the need for tire rotation and provide even tread wear despite the presence of camber. Off-set tires are designed with the tread positioned near the side wall of the tire, essentially shifted from the center of the tire's surface toward the user, generally 12 degrees to 15 degrees, depending on manufacturer, in order to ensure the primary wear area of the tire, when cambered up to 15 degrees, remains greatly intact with the rolling surface. This off-set design allows for excellent traction, drive, and functions of the tires with the wheels in a cambered position, and eliminates the need for tire rotation.
Appropriate tire selection is of utmost importance when choosing options and accessories for the client. In recent years, the industry has seen great expansion in the design, style, and function of wheelchair tires, and the key to selecting the correct tire lies in the perceived objective of the chair.
In terms of tread selection, a general spectrum is present, ranging from ultrasmooth tread to rugged, and everything in between. If the user intends to participate in court-based sports such as wheelchair basketball or rugby, generally a very smooth or minimal tread is optimal for reducing the drag of the chair and promoting speed, response, and cornering.
This style of tread may not be preferred for those looking to use the wheelchair outdoors or off the court. For those who prefer outdoor activities or commute to and from work and experience multiple terrains throughout the course of the day, an all-terrain tread is often utilized, often with deep grooves to allow dispersion of water. For the rugged user who may be experiencing ever-changing terrain, including loose rock, wet or uneven ground, and potentially hazardous conditions, large deep climbing tread may be desired. While a rugged tread is useful for rough terrain, this style may impede response and cornering and reduce efficiency with selfpropulsion over smooth surfaces.
With an increase in the number of wheelchair users participating in sports activities, there are many features and design styles to consider not only within the wheelchair itself, but with rear wheel placement and tire selection. Through the options offered by ever-changing product lines and design techniques, sport users are experiencing greater performance capabilities than ever. RM

Kirsten N. Davin, OTD, OTR/L, ATP, SMS, is an occupational therapist, Assistive Technology Professional, and Seating and Mobility Specialist, who presents continuing education seminars and lectures nationally, provided through Cross Country Education and on a private basis. She owns Escape Mobility Solutions, LLC, a private practice headquartered in Pleasant Plains, Ill, and specializes in wheelchair seating, positioning, and assistive technology provision. Davin practices clinically at Memorial Medical Center in Springfield, Ill, as a staff occupational therapist and is currently on faculty at Rocky Mountain University of Health Professions, in Provo, Utah. For more information, contact [email protected].