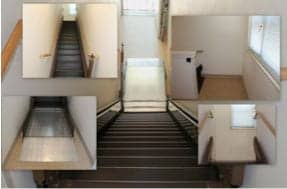 After teaming up with the Philadelphia Housing Authority, Total Access, an independent wheelchair lift dealer, requested accessible inclined platform wheelchair lifts from Butler Mobility. A news release reports that Total Access recently teamed up with the Housing Authority in order to install an inclined platform wheelchair lift to be used in seven new, handicapped accessible townhouses in the city.
The release notes that the project required that each townhouse feature an inclined platform wheelchair lift to transport wheelchair users from the main floor of the home to the upstairs level. Part of the funding requirements, as part of the Economic Recovery Plan, included using a company that made equipment in the United States.
Butler Mobility, headquartered in Lewisberry, Pa, designs its inclined platform wheelchair lifts on-site, fulfilling this funding requirement. The company was also able to design seven complete lifts to fit the stairs in each of the new townhomes.
For more information, visit www.butlermobility.com
Source: Butler Mobility