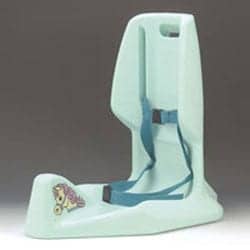 Maddak Inc, headquartered in Wayne, NJ, markets a positioning aid designed to promote head and upper extremity control in children with special needs, encouraging the development of fine motor control. The Corner Seat/Positioning Aid is intended to assist in stabilizing the trunk, pelvis, and shoulders, allowing the arms and shoulders to come forward while increasing arm movements. This also allows the user to work on activities midline.
The product also features an H-strap for anterior trunk support, a hip belt to maintain overall proper positioning and an abductor block to assist in maintaining leg extension and reduce extensor thrust. Its broad design aims to provide stability and help prevent the seat from tipping over.
The Corner Seat/Positioning Aid can be used in the bathtub, indoors, outdoors, is comprised of polyethylene, and weighs 9 pounds.
For more information, visit www.maddak.com
Source: Maddak Inc