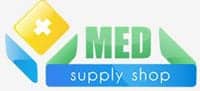 Med Supply Shop, an online medical supplies vendor headquartered in Brooklyn, New York, has announced that it is currently showcasing a newly updated inventory of mobility products including power wheelchairs, transport chairs, powered scooters, and wheelchair ramps.
David Winzelberg, CEO, Med Supply Shop, highlights the range of mobility aids now available on the market, "…Such items restore a significant degree of independence to those with comprised mobility," Winzelberg says.
According to a recent news release, the retialer's selection of power wheelchairs includes models from a variety of companies, including Drive Medical, Probasics, Everest and Jennings, and Pride Mobility. These model encompass the Wildcat 18R folding power wheelchair from Drive Medical, the Z-chair from Pride Mobility, and several styles of transport chairs, such as the Basic Steel transport chair from Medline.
The release notes that Med Supply Shop also stocks many powered scooters as well as wheelchair ramps. Additional inventory includes wheelchair accessories such as seat-belts, wheel lock extensions, seat cushions, and clamp-on cup-holders.
For more information visit www.MedSupplyShop.com
Source: Med Supply Shop