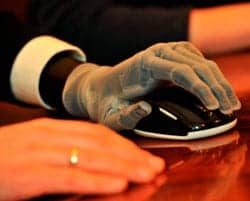 According to a news release from Hanger Clinic, one of its patients in Massachusetts is among the first in the world to receive the i-limb ultra revolution, and upper limb prosthesis that can be controlled via mobile application.
Mike Benning, aged 48 years old, who Hanger reports was forced to have his left arm amputated below-the-elbow as the result of an aggressive type of cancer, has been reportedly thriving with the technology which allows him to engage in activities of daily living (ADLs) that were a challenge prior. These include holding his cell phone without covering the screen, holding hands with his daughter, throwing a football to his son with two hands, and greater ease when preparing food.
Hanger notes that the i-limb ultra revolution features a powered rotating thumb, 24 grip options, and highly sensitive electrodes. The device can be controlled via the biosim mobile app. The movement of the device's thumb is designed to allow users to control it directly by the flexing of muscles in the residual limb or the thumb can be moved automatically into position as part of a pre-set grip pattern or gesture. The release also notes that the device's new Quick Grips option from the biosim mobile app is engineered to allow users to automatically activate 24 different grip patterns and gestures on their prosthesis with a single tap of the screen.
For more information about the i-limb ultra revolution, click here
To see the device in action and learn more about Benning and his Hanger clinician Brian Heckathorn, CPO, and Matt Mikosz, CP, LP, upper extremity specialist, click the following sources: WFXT-TV (FOX), WCVB-TV (ABC), WHDH-TV (NBC), and WBZ-TV (CBS).
Photo Credit: Touch Bionics Inc
Source: Hanger Clinic