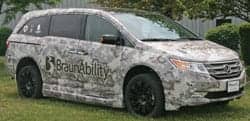 The Braun Corporation has announced that on May 22, Lance Corporal Michael DeLancey, who was paralyzed from the waist down in Iraq in 2006 after being shot by a sniper, will be presented with an accessible Honda Entervan converted by BraunAbility. Braun notes that the van is specially designed and wrapped completely in Marine digital camo.
The company adds that the presentation is slated to be held at 11:00 am EST at BraunAbility headquarters in Winamac, Ind. The presentation will also include local veterans in the Winamac community, BraunAbility employees who have served in the military as well as family of service members, and BraunAbility representatives.
The release notes that in spite of his injury, DeLancey has chosen to "Work hard, then work harder," in his local community and volunteers his time as an ambassador for the Wounded Warrior Project. DeLancey speaks with fellow veterans recovering from serious injuries and also serves as an assistance coach for a Youth Football League in Pineallas Park, Fla.
Source: The Braun Corporation