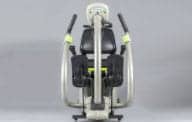 NuStep Inc, Ann Arbor, Mich, announced the launch of its latest recumbent cross trainer exercise machine. The T4r recumbent cross trainer is designed to provide safe, outcome-based exercise for almost all ability levels, including those with chronic conditions or in rehabilitation, and aims to engage users to gain independence, build strength, and feel invigorated.
The new cross trainer is engineered to deliver a combination of smooth motion and accessibility, and combines lower-extremity and upper-body motion for a full-body workout. The T4r also features a 360-degree adjustable seat, arm adjustments, handgrips, and supportive pedals. The machine is also designed to be easy on the joints, with the user using natural body movements for minimal impact.
For additional information on the T4r, visit www.NuStep.com.
[Source: NuStep]