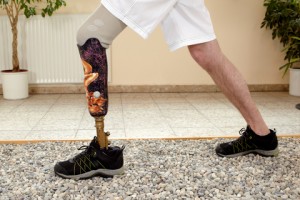 Individuals who have been affected by a recent limb loss will have access to a new tool that will help them work more effectively with their care team. The tool was created as a joint effort between the Amputee Coalition and the American Academy of Orthotists and Prosthetists (AAOP).
"Working Together for a Successful Outcome," is the new tool that is now available to help amputees, their families, and caregivers ask the correct questions and communicate their needs when working with members of their healthcare team. Consumers and orthotics and prosthetics facilities can access the new resource at no charge on the Amputee Coalition Web site or the AAOP site.
According to a media release from the Amputee Coalition, orthotics and prosthetics facilities have the option to personalize the brochure by adding the name of their business to its cover. This specific option the Amputee Coalition reports, is available on the  coalition's website for a fee.
"Limb loss is a life-changing event that can be overwhelming," says Academy President Phil Stevens, MEd, CPO, FAAOP. "These individuals suddenly find themselves challenged to choose a prosthetist, who can have a profound influence on their comfort, function, and finances in the years ahead. This collaborative brochure advises families as they confront the often unfamiliar landscape of prosthetic rehabilitation."
Sue Stout, president and CEO of the Amputee Coalition, notes, "As the national resource center for people affected by limb loss, the Amputee Coalition is dedicated to enhancing the quality of life for amputees and their families, improving patient care, and preventing limb loss. One of the many ways in which we do this is by partnering with other organizations to bring consumers the information that they are looking for to improve their lives."
[Source: Amputee Coalition]