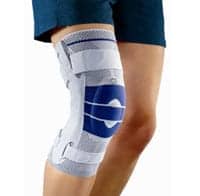 Bauerfeind USA markets a knee support designed to accommodate patients with slight instability, arthritis, and osteoarthritis of the knee. The GenuTrain S active support features an integral, ringshaped visco-elastic pressure cushion (pad) that surrounds the kneecap.
This feature is intended to assist in aligning the support correctly and to adapt to the angle of the knee joint during movement. The company notes that the interplay of the knit and the pad provides an intermittent compressive massage. The product's Train Active Knit offers a breathable design to encourage high wearing comfort.
The GenuTrain S is engineered to provide users with pain relief, anatomically contoured bars for secure support, as well as stabilization of the knee joint and activation of the muscles.
For more information, visit www.bauerfeindusa.com
[Source: Bauerfeind USA Inc]