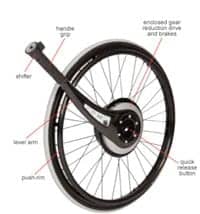 Wheelchair users may benefit from a new lever driving and braking system, designed to reduce the risk of repetitive stress injuries to the shoulders, elbows, and wrists and to enhance mobility. The Wijit Lever Driving and Braking System is engineered to replace the existing wheel on a wheelchair from the axel out. The product's lever is used to propel the wheelchair in place of a push-rim.
The Wijit offers a 1:2 gear ratio transmission with forward and reverse gears inside the hub. Users can shift from forward to neutral by rotating a shifter at the end of the lever. The product also features brakes designed to allow users to stop the chair by pulling in on the levers without touching the pushrims.
For more information, visit www.wijit.com.
[Source: Wijit]