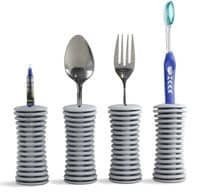 An ergonomic built-up handle designed to accommodate users with arthritis or limited grasping ability to self-feed and perform other activities of daily living is available through Maddak Inc, headquartered in Wayne, NJ. The company notes that its soft Universal Built-Up Handle is a multipurpose handle engineered to provide users with a larger gripping surface on most standard eating utensils such as forks, knives, and spoons.
Maddak adds that the product is intended to eliminate the need for special built-up utensils, and features a ribbed handle to reduce pain and cramping. It can also be used with other items such as pens, pencils, toothbrushes, crochet hooks, and knitting needles. The product's 1¾-inch diameter handle is built to accommodate utensils with widths from ¼ inch to 1 inch.
For more information, visit www.maddak.com.
[Source: Maddak]