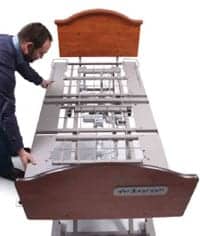 Graham-Field (GF) Health Products Inc, Atlanta, recently introduced an expandable/retractable sleep deck. The Slide-W-I-D-E expandable/retractable sleep deck features two quick-release ball-detent pins designed to allow users to adjust bed width to 35 inches, 39 inches, and 42 inches. The company notes that the product's adjustability is intended to allow users to move beds through narrow doorways, and its accessories comply fully with FDA guidelines for reducing the risk of bed entrapment.
The company adds that the Slide-W-I-D-E is manufactured in the US and targets the highest safety and quality standards.
For more information visit www.grahamfield.com.
[Source: GF Health Products Inc]