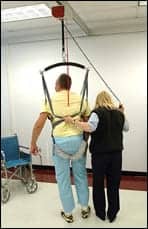 The proper mobility equipment can promote safer transfer or ambulation for both client and therapist.
It bears repeating that North America's population is aging, getting physically larger, and becoming ever more demanding when it comes to issues of mobility, rehabilitation, and personal independence. As a result, rehab and acute care facilities are finding it more and more difficult to employ conventional "manual" techniques when lifting, repositioning, and rehabilitating their patients. The problem is going to get worse, not better, according to most health care experts.
THINKING INSIDE THE BOX
For many years, OTs and PTs have viewed assistive devices as a tool that is helpful for other health care professionals rather than a tool that they would use therapeutically. Many of us were taught to use good body mechanics and a gait belt to safely move, transfer, or ambulate our patients. Lift equipment was typically used just in crisis situations, such as when a dependent patient needed to be picked up from the floor. Even today, these devices are often seen as obstructions to a patient's well-being…taking away patient independence, taking too long to use, decreasing patient satisfaction, and offering very little in return.
In my practice, I rarely considered using a lift because my goals centered around increasing patient activity levels and independence. Whether in an acute care or a rehab setting, I worked with my peers to reinforce goals that would progress the patient's level of independence. So why would I encourage the use of a dependent lift? But then I was forced to reconsider options as I observed my peers getting hurt no matter how good their body mechanics were. As our population is getting heavier, and acuity and dependency levels are getting higher, we need to challenge our existing paradigm.
SAFETY CONSIDERATIONS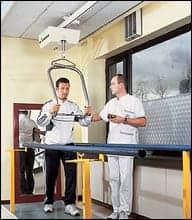 Standing equipment can encourage patient mobility, as well as reinforce movement patterns.
I began to review the literature and discovered that nurse/health care worker injury rates are among the highest in all occupations, according to the Bureau of Labor and Statistics. It made me wonder about therapists' injury rates. As therapists, we have promoted ourselves as transfer and mobility experts. Thus, surely our injury rates should be very low, if not nonexistent. But again, upon investigation, we found that in a recent study, the prevalence of musculoskeletal injuries in therapists was 68%1, while another reported an annual prevalence of low back injury among PTs at 63%.2 Although therapists deal with the same patients nurses do, a therapist is often the first to promote and facilitate the mobility of the patient.
New mobility equipment that appeared more stylish began to be introduced into our facility. I will be the first to admit that I was skeptical when I was presented with the idea of installing a ceiling lift over a procedure table that portable lift equipment was not compatible with. Our quadriplegic and paraplegic population had to be manually lifted onto the table. This would take three to four caregivers; and to no surprise, the primary staff who worked there were out with back injuries.
First, I thought about the obstacles I would have to deal with internally when I suggested a ceiling lift option. Then, I doubted on a practical note that the staff would accept it. But finally, as a team, we decided that while good body mechanics and tools like gait belts or sliding boards have their place, we needed to explore a new course of action—one that included learning more about both the potential and the improved safety that was possible using the new devices.
Comparing the new devices and their accessories with the old devices I was familiar with was easy. I was amazed with the problems they could resolve for nurses. They could reposition and turn patients who could not be encouraged to do so on their own, they could help toilet-dependent patients who would otherwise soil their beds, and they could get new admissions out of cars. The list of "could does" went on and on. But what problems could they resolve for therapists? Could these new devices aid in accomplishing our mobility goals? The short answer was yes.
During static standing or mobility training sessions, a considerable amount of a therapist's attention is directed toward physically protecting the patient during gait training and possibly against falling. Of the 2,688 respondents in a recent study by the Chartered Society of Physiotherapy, approximately 40% responded that an unanticipated sudden movement or fall by a patient contributed from moderate to major significance toward their spinal injury, and another 37% responded that the same was true when assisting patients during gait activities.1 I have since learned that these new patient-lift devices can significantly contribute to preventing injuries while advancing patient mobility simply by offering various sling and accessory options that help individualize the approach and/or the patient's precautions. At the same time, therapists can focus on what they do best—namely, therapy. In short, therapists can use the devices as a safety net while patients gain endurance and confidence.
A MOBILITY STORY
I know you may be thinking that even a safety net can discourage patient mobility or reinforce movement patterns that are not ideal. Some of you may even wonder if this equipment could affect therapy jobs. Ironically, we found quite the opposite when we piloted patient-handling equipment. Exciting possibilities began to emerge. We began to see how the equipment could help patients safely gain standing endurance while the therapist could cue the patient more effectively. We saw patient satisfaction improve as it related to safety, comfort, and dignity. We observed therapists using the equipment more dynamically—like using an ambulation vest with a patient who was worked on core stability sitting on a therapy ball. Based on this and other feedback, the therapists soon began to open up and see new possibilities. Here is just one of many stories they have shared:
A PT was treating a 162-pound man in mobility training by having him walk along the parallel bars in the Rehab Services Department. The therapist decided to use a walking vest attached to an overhead track fixed in the ceiling that ran in parallel down the middle of the parallel bars. As the man took his second step, his feet gave out from under him. His first response after his muscles had failed him was, "The vest works!"
But the story does not end with the device just preventing his fall. In a normal situation without the vest and ceiling track, the therapist would have tried to catch him and may have stopped him from falling, hopefully without injuring herself. Under these normal circumstances, the patient may have been asked to continue if conditions were appropriate, but would the patient really have continued? If he had, there would have been serious doubt in his mind.
So what happened in the actual patient story? Because the walking vest cinched tight when the patient lost his footing, the patient moved only an inch lower than his original position. Afterward, the PT immediately encouraged the patient to regain control and walk. The patient did as he was told and walked 15 more steps with confidence. Without the walking vest and ceiling lift, a fall would have shaken his confidence and may have severely limited his mobility training, resulting in a longer length of stay.
THINKING OUT OF THE BOX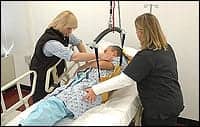 Safe patient-handling consultants offer therapists a variety of patient-transfer solutions.
It has been experiences like this that have helped us to challenge our approach and to start to think "outside the box" when assessing options to progress our patients. If the walking vest promoted independence and protected the patient and the therapist at the same time, I was more than open-minded to see what more this new device could accomplish in therapy care.
Our safe patient-handling consultants led the therapists through several different combinations of devices for different types of patient care scenarios. They offered possible solutions that reinforced our standards, not eroded them. It began to get exciting seeing therapists try new options to accomplish their goals. We began using equipment to progress patients from a dependent phase to one that increased their endurance going from sitting to standing to eventually safely ambulating down the hall independently.
While we always put the patient's safety first, therapists often put their own safety second. Thinking outside the box has increased the number of tools we have available to help our patients reach their goals safely, but it has also helped us to put our own safety first. It just requires us to think in a new way.
EVALUATING PATIENTS
While it is common to see patient mobility evaluated, it is uncommon to see patient-handling equipment in a therapeutic treatment plan. Safe patient movement with lift devices is still very new to therapy professionals as a group, so our therapy department worked closely with our vendor consultant to help create an evaluation guide that coordinated different levels of a patient's progression in conjunction with the proper safety equipment. This guide included multiple examples of clinical conditions and applications. Because our practice standards are high and the need for safety is very important to us, using the evaluation guide helped our therapists err on the side of safety while still maintaining our need to stay in charge of our patients.
In conclusion, the Safe Patient Handling movement, although originally targeted at nurses, has finally begun to have an impact on other health care personnel, including therapists. If we need to do anything, we need to step forward as a group and come to grips with the need to begin using the multitude of aids and devices available to us. Why? I can think of two compelling reasons: 1) Our patients will make better and safer progress, and 2) We individual OTs and PTs will find ourselves working in a safer and more effective environment. A major hurdle, perhaps the major hurdle, will be to convince ourselves that what we learned in school—namely, that the manual, hands-on technique is the only way to go—is not really the only way to go. We now have highly specialized equipment available to assist in our safe daily rehab activities.
Lori Zinnecker, OTR/L, MBA, is an ergonomic specialist at Northwestern Memorial Hospital, an acute care academic medical center in Chicago. She has been with the hospital for 14 years and has been working toward a "minimal lift" program that is now going housewide in 2006-07. For more information, contact.
REFERENCES
Glover W, Sullivan C, Hague J. Work-related musculoskeletal disorders affecting members of the Chartered Society of Physiotherapy. Physiotherapy. 2005;91(3):138-147.
Cromie JE, Robertson VJ, Best MO. Work-related musculoskeletal disorders in physical therapists: prevalence, severity, risks and responses. Phys Ther. 2000;80(4):336-351.