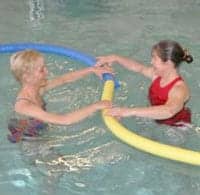 In an effort to highlight proven, modern techniques designed to combat falls, the International Council on Active Aging (ICAA) and HydroWorx, are reportedly offering a free webinar. The webinar, titled "Creative Aquatics Programming to Improve Balance & Mobility," is slated for May 30, 1:00 EDT.
The one-hour webinar will present a wide range of aquatic techniques and exercises that professionals can use to help individuals achieve better coordination, balance, and agility, according to a recent news release. Topics slated for inclusion in the webinar include how to implement exercises with a variety of low- and high-tech tools, how to use intervals to share a single piece of equipment among multiple aquatics exercises, and how to add more excitement to personal trainings, small group sessions and/or larger group, interactive classes.
Instructors for the webinar are Kim Eichinger and Teresa Rudy. Elchinger, executive director of Fitness for Country Meadows Retirement Communities in York, Pa, is a certified fitness professional with 30 years of experience designing and leading exercise programs. Rudy, aquatics and fitness director at Country Meadows of Leader Heights, also located in York, is a licensed pool operator and has been recognized by the Arthritis Foundation for her contributions.
To register, click [removed]here[/removed]
Photo Credit: HydroWorx
Source: HydroWorx