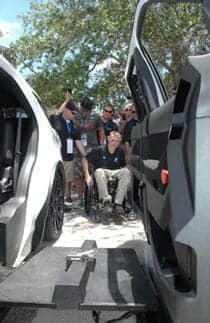 BraunAbility and West Coast Customs recently unveiled a military-inspired concept SUV for wounded warriors. The Ford Explorer, which features custom camouflage paint and automatic raising and lowering of the body, was presented to Lance Corporal Mike DeLancey as part of a reveal event filmed by West Coast Customs. BraunAbility notes that it hopes that the concept opens the door to a new era of innovation of accessible vehicles.
Kevin McMahon, executive vice president of sales and marketing, BraunAbility, notes that while the vehicle was originally built in tribute to DeLancey, it is also what he calls a "revolutionary concept" that may change how people think about mobility transportation. The SUV includes special features such as an accessible driver's area to allow for easy entry and exit, custom wheelchair complete with an HP Elite Pad 9000, 42-inch widescreen LCD monitor for tailgating, and 22-inch gloss black brushed accent wheels.
BraunAbility adds that the vehicle also automatically lowers for wheelchair access then rises to normal driving position. Schmidt Hamiliton Motorsports and HP also funded the concept vehicle. The company notes that the SUV will also be showcased on a West Coast Customs show this fall on Fox Sports.
An exact timetable for a production model has not yet been set, according to BraunAbility.
[Photo Credit: BraunAbility]
[Source: BraunAbility]