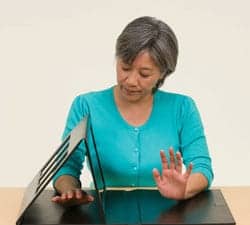 A product that promotes mirror therapy in both the clinic and home is available through North Coast Medical. The Achieva SMART-Mirror is intended to assist in the treatment of upper extremity pain and limited motion as a result of arthritis, phantom limb, post-hand surgery, hemiparesis, and complex regional pain syndrome. It is designed to enhance motor planning and reduce kinesiophobia.
The company notes that the SMART-Mirror can also be used for mirror therapy or as the final stage of graded motor imagery. The product's mirror can be positioned between 90 degrees and 65 degrees for individualized viewing comfort.
Three ventilation windows are intended to promote airflow and allow therapists to observe movement.
For more information, visit www.ncmedical.com.
[Source: North Coast Medical]