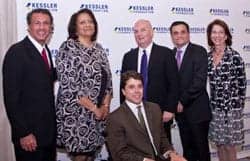 The Kessler Foundation reports that during its Board Of Trustees Annual Dinner, it honored and recognized a range of individuals who have inspired their community and impacted the lives of people with disabilities with their work, as well as trustees leaving the Board.
"They are mentors to their colleagues and help others live better lives through inspiration, leading by example, research, medical care, and advancing the development of the Foundation to serve more people with disabilities," Rodger DeRose, president, CEO, Kessler Foundation, says.
The Foundation notes that Bonnie Evans PT, MHA, and Scott Chesney received 2013 Kessler Foundation Community Inspirational Leadership Awards.
Evans is CEO of Kessler Institute for Rehabilitation's West Orange campus. Evans reportedly trained with Institute founder Henry H. Kessler, MD, PhD, and went on to serve as a mentor, guiding the careers of her employees. Evans has been with the Institute for more than 40 years.
Chesney, executive director of the Raise Hope Foundation, sustained a spinal stroke at age 15 and was paralyzed from the waist down. Chesney is now a recognized motivational speaker and life coach and has shared his insights with the United Nations, Pentagon, FBI, hospital and rehabilitation centers, associations, colleges, universities and grade schools.
The third annual Kessler Foundation Joel A. DeLisa, MD Award for Excellence in Research and Education in the field of PM&R was presented to Ross Zafonte, DO, head of the Red Sox Foundation/Massachusetts General Hospital's Home Base Program, and an expert on brain injury, the Foundation says. Zafonte is the Harvard Medical School Earle P. and Ida S. Charlton Professor and Chair of Physical Medicine and Rehabilitation at Harvard Medical School, Vice President of Medical Affairs at Spaulding Rehabilitation Hospital, and Chief of PM&R at Massachusetts General Hospital.
In a news release, the Foundation adds that it also recognized Jeffrey Feiner, John R. Cannell, and outgoing chairman James K. Estabrook, who are retiring from the board this month.
Liz Lowenstein, incoming chair of the Board, states that the men have served the Foundation for a combined total of 45 years, "Their commitment, dedication, and wise counsel have been a major factor in the advancement and the achievements of Kessler Foundation since 1986," Lowenstein says.
Estabrook joined the Board of Trustees in 2000 and under his leadership, the Foundation says it investigated resources to enhance research with state-of-the-art equipment, expand grant-making nationally to support disability employment and improve collaborations through expansion and renovations of its facilities.
Caption: (left to right) Kessler Foundation's President and C.E.O. Rodger DeRose, C.E.O. of Kessler Institute for Rehabilitation in West Orange Bonnie Evans, motivational speaker Scott Chesney, outgoing Board Chairman James K. Estabrook, Esq., traumatic brain injury expert Dr. Ross Zafonte and incoming Chair of Kessler Foundation's Board of Trustees Liz Lowenstein.
Photo Credit: Kessler Foundation
Source: Kessler Foundation