Applying power and manual tilt technologies to live life at all angles
by Steffen Tiskus, PT, Stephanie Tanguay, OT, and Deborah L. Pucci, PT, MPT
Tilt systems can help wheelchair users reduce the potential for pressure injury, enhance a person's reach, and provide greater stability while navigating over certain types of terrain. Both manual and power wheelchair users can enjoy a more robust selection of mobility options and live healthier lives with the assistance of tilt technologies, but to get the best performance from these features clinicians must understand which technologies best fit an individual's circumstances. To help clarify the many choices therapists and other stakeholders have in creating a tilt-enabled mobility device, Rehab Management presents practical guidance and success tips from three experts who specialize in power and manual tilt equipment.
Practical Applications and Benefits of Power Tilt Systems
By Steffen Tiskus, PT, and Stephanie Tanguay, OT
Tilt repositioning has been used in assistive wheeled mobility devices for more than 40 years. These devices are sometimes referred to as tilt-in-space systems and are utilized as a means of shifting the consumer's weight while maintaining a static seat-to-back angle. Traditionally, tilt systems move in a posterior direction from a neutral upright seated position and have been available in various degrees of tilt from 10 or 20 degrees to 55 degrees in the sagittal plane of movement. The first tilt systems for both manual and then power wheelchairs were pivoting tilt systems, which required longer wheelbases for stability. In the last 20 years or so, tilt systems have evolved to incorporate center of gravity or center of mass shifting designs to improve stability and shorten the overall base length.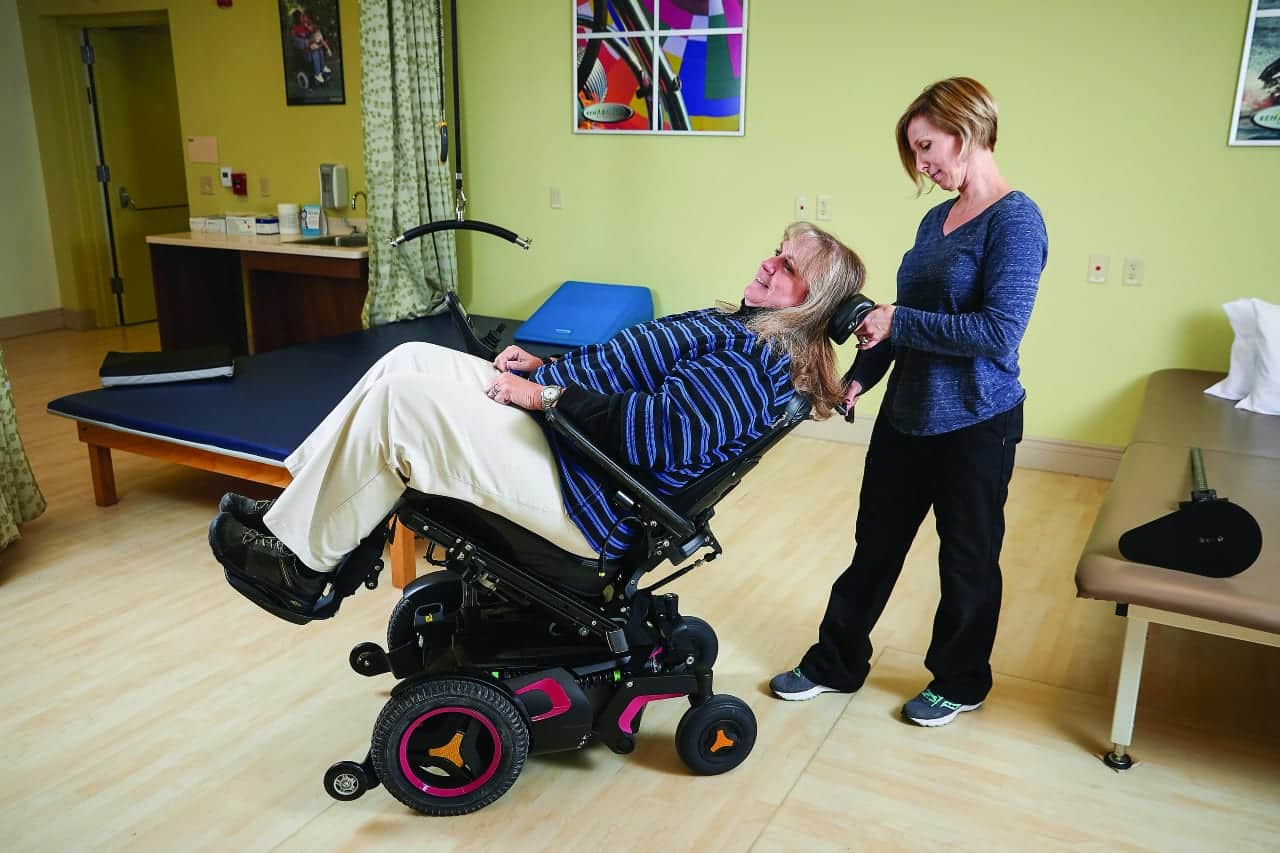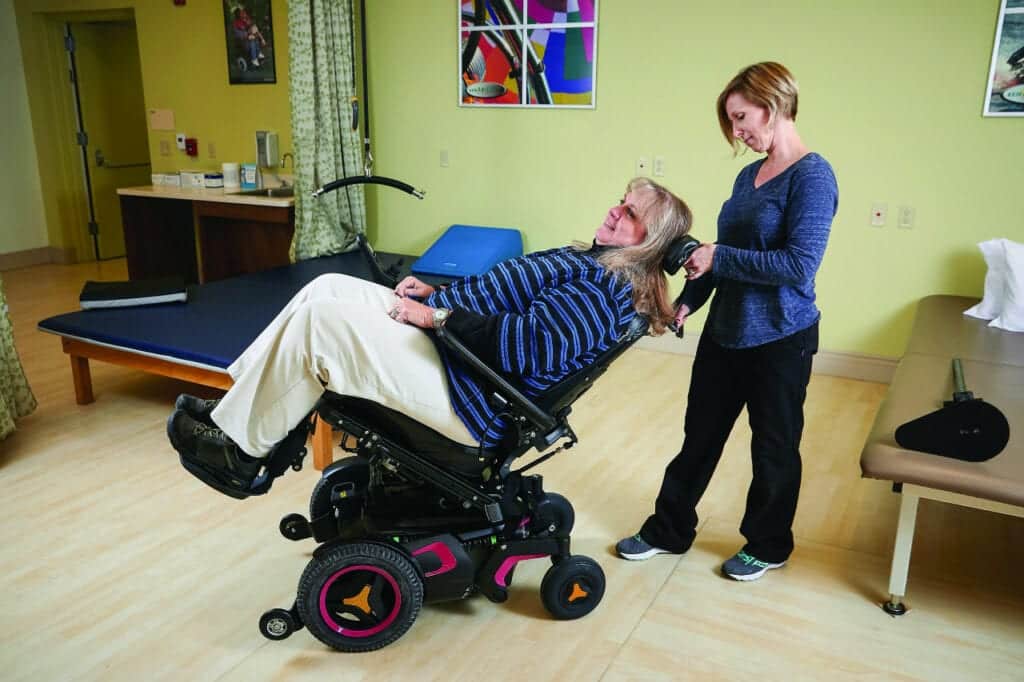 Why Power Tilt?
Power tilting systems are frequently prescribed when a consumer is unable to physically perform manual pressure relief or if they are unable to reposition themselves throughout the course of the day. A tilt-in-space system will maintain a static hip angle while providing a means of weight shift to prevent pressure injuries on the seat surface. Changing tilt orientation can be an effective means of maintaining skin integrity and preventing pressure injuries, provided that a sufficient range of tilt is performed. The National Pressure Injury Advisory Panel (NPIAP), along with the Wound Ostomy Continence Nurse Society (WOCN), recommend weight-shift every 15-20 minutes for wheelchair-dependent consumers who are considered high risk for pressure injury and/or have any stage pressure injury.
Tilt systems can be utilized in combination with lower extremity elevation for positioning to decrease edema in the lower legs, provided that the consumer has adequate range of motion in the legs. Spasticity may also be a consideration in the decision between tilt and recline. For some consumers, the change of hip flexion angle with recline can elicit a spastic response which can alter the consumer's posture/position. This can result in shearing issues and can alter the orientation of positioning components such as lateral thoracic supports or positioning-style headrests.
The use of tilt systems can also aid with negotiating more aggressive declines in terrain. By tilting posteriorly (the greater the angle that needs to be traversed, the more posterior tilt is engaged), the end-user effectively changes the system's center of gravity, thereby providing a more stable position when having to traverse these more aggressive angles.
Health and Mobility Benefits
Tilt systems are also beneficial when a consumer needs greater ground clearance to negotiate obstacles such as curbs or speed bumps. Tilting the seating system posteriorly will raise the footplates higher, relative to the ground (which are often the lowest point of the wheelchair), and thereby improve ground clearance.
Tilt can have a dramatic impact on respiration; even minimally kyphotic postures can restrict excursion and limit lung capacity. Posterior tilt can create a sagittal shift in the body. In this position, gravity can create some extension of the upper body and position the trunk for greater lung inhalation. Lateral tilt and posterior tilt have been successfully utilized to address respiration (J. Sparacio) and dysphagia (K. Hardwick & R. Handley). Positioning to improve visual field, head righting/positioning, reducing fatigue, gravity assist for positioning after transfers, increasing footrest clearance while navigating some obstacles or curbs, tilt is utilized for postural stability.
As the seating system tilts posteriorly, the body's orientation in relation to gravity also changes. This can alter access to switches that control chair functions, communication devices, etc. It is important to confirm that a consumer can consistently and reliably activate all equipment controls in positions throughout the range of the tilt cycle.
Pressure Mapping the Tilt Solution
There are certainly consumers who cannot offload seat surface pressure with only tilt (or only recline). Pressure mapping is a great way to determine the most effective pressure relief position, whether that be the amount of tilt only or if a combination of tilt and recline is required. Pressure mapping is also a wonderful training tool for teaching consumers what positions achieve the lowest seat surface pressure.
Anterior tilt (forward of neutral in the sagittal plane) and lateral tilt can be used for short periods of time to move the consumer into a position of function for some activities such as feeding, manipulation of items on a work surface, reaching and various activities of daily living, along with aiding in safe sit-to-stand and stand-pivot transfers.
Power tilting systems provide both clinical and practical benefits, which can enhance quality of life and independence of powered mobility consumers.
Steffen Tiskus, PT, is Training and Development Coordinator at Motion Concepts.
Stephanie Tanguay, OT, is Clinical Education Specialist at Motion Concepts. For more information, contact [email protected].
Manual Tilt-In-Space Wheelchairs: How Tilt Mechanism Type Can Influence Application
By Deborah L. Pucci, PT, MPT
Manual tilt-in-space wheelchairs are represented by a diverse selection of wheelchairs with varying tilt mechanisms and ranges of tilt. The ability to adjust seat angles provides unique clinical advantages other manual wheelchairs cannot. These advantages include the ability to create various positions to maintain tissue integrity, facilitate postural support, and achieve positions to support functional activities. Among these activities are improved biomechanics for transfers, adequate reach for tabletop activities, and proper head alignment for safe swallowing, visual access to the environment, and improved respiration. Grouping tilt wheelchairs based on the three dominant types of tilt mechanism and their associated characteristics provides a sound basis for identifying the type of chair that best meets specific needs.
Study the Angles
Tilt-in-space wheelchairs with a mid-seat frame pivot manage seat angles around a singular point on the seat rail. The singular pivot point results in an occupant's center of mass moving from forward to behind the pivot point with movement into greater tilt ranges. This requires the chair to have a relatively long base of support to maintain stability when the occupant's mass is positioned posterior to the pivot point of the tilt mechanism. Additionally, the individual changing the tilt angles has to manage the occupant's weight throughout the tilt range. This may result in discomfort if the occupant is unable to create a smooth transition between movements. This tilt mechanism does not lend itself well to occupant self-propulsion because as the chair moves into greater degrees of tilt there is concurrent knee rise and movement of the upper extremities forward and away from the drive wheels. Part of the appeal of this type of tilt is that some models can fold for ease of transport. For the reasons outlined above, these chairs are often prescribed for individuals of smaller stature, with lower body mass, and who do not self-propel.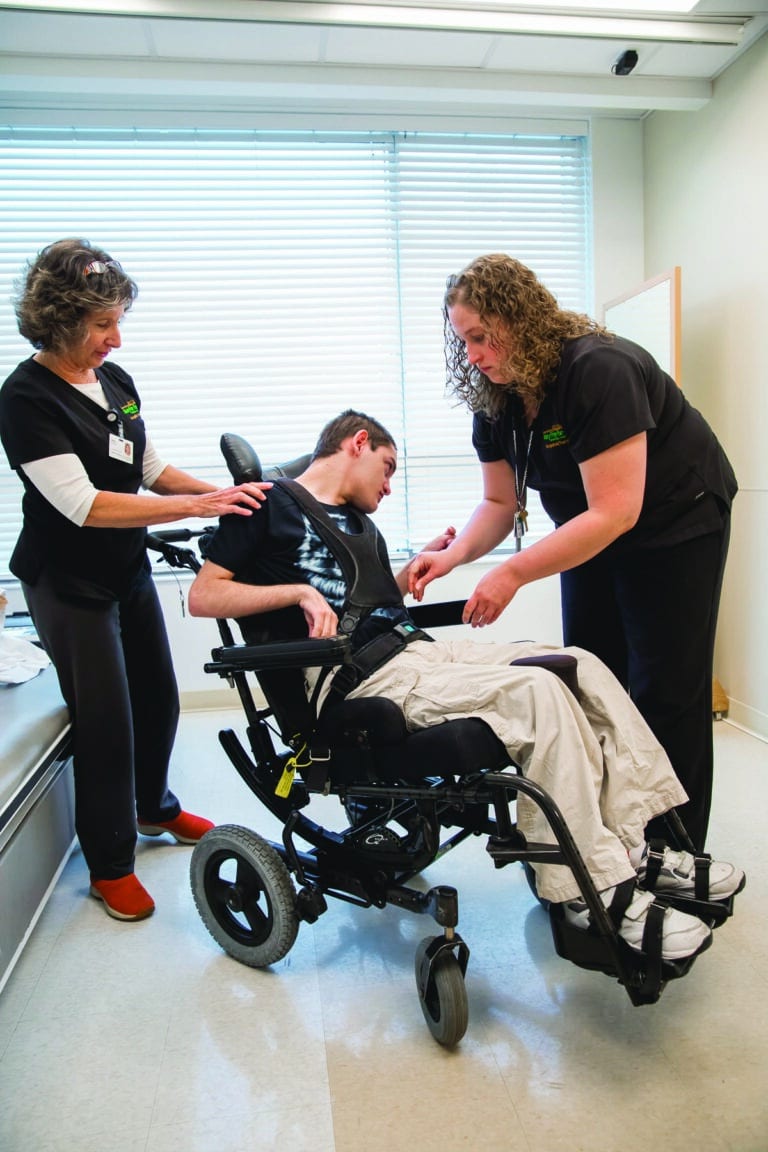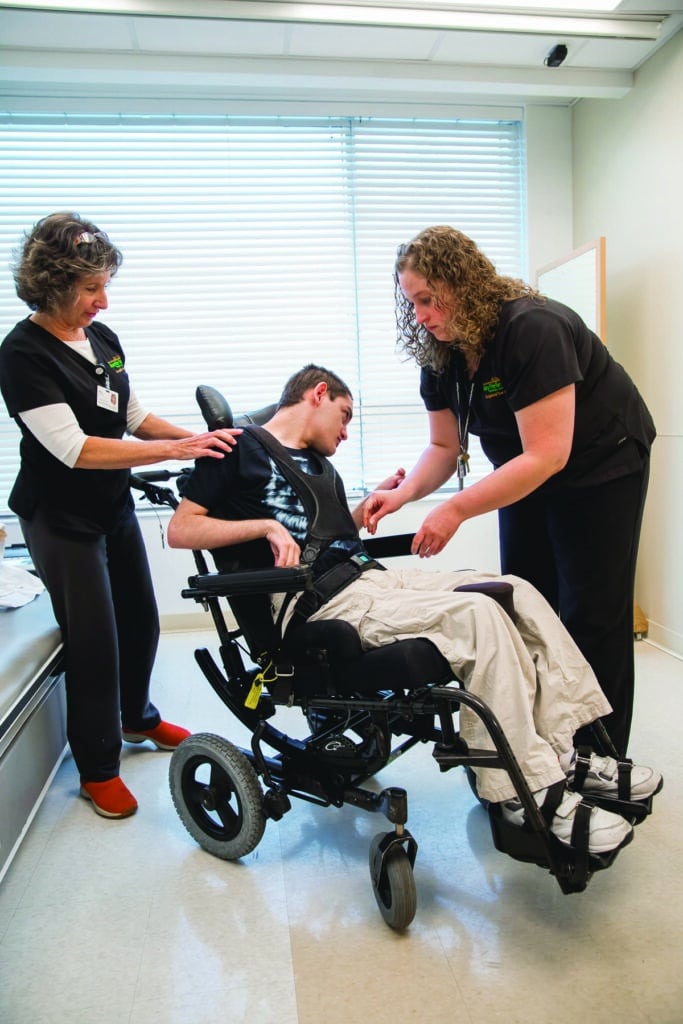 Creating Balance
Tilt-in-space wheelchairs with a rotational tilt mechanism manage seat angles using an arcuate mechanism. When properly adjusted, an arcuate tilt mechanism keeps the occupant's mass well-balanced over the wheelbase of the chair. This provides a more comfortable sensation for the occupant and is also much easier for the individual changing the tilt angles to do so, even with heavy occupants. This balance also allows having a chair with a relatively short wheelbase, small footprint, and compact turning radius to maximize environmental access. Much like a mid-seat frame pivot, the rotational tilt does not lend itself well to self-propulsion because the lower extremities move away from the ground and the upper extremities move forward and away from the drive wheels as tilt increases. Some models of chairs address this shortcoming through options for axles specifically designed for self-propulsion to allow improved access to rear wheels for users who engage in upper extremity propulsion. Limitations of this tilt type are that the tilt mechanism does not allow folding for transport and adds significant weight to the wheelchair, both of which can limit transportability.
The third type of tilt-in-space wheelchair mechanism is a front pivot tilt, often referred to as a knee tilt. This type of chair manages seat angles from a singular point directly behind the occupant's knees. As the chair moves into tilt, the seat frame drops down between the rear wheels. The placement of the tilt mechanism forward of the occupant's center of mass allows for a relatively short base of support, small chair footprint, and reduced turning radius for maneuverability and environmental access, but does limit tilt range when compared to mid-seat frame pivot and rotational tilts. The tilt mechanism of this chair type is controlled through a weight-rated gas spring mechanism, which decreases the burden on the individual changing the tilt angles and provides a smoother transition between positions for the occupant. Unlike the mid-seat frame pivot and rotational tilt, the anterior position of the pivot point for tilt results in minimal change in knee height throughout the tilt range. This provides improved lower extremity positioning for foot or hemi-propulsion. Additionally, increasing the tilt angle results in the upper extremities moving closer to the rear wheels as the seat frame drops between the wheels, improving rear wheel access for upper extremity or hemi-propulsion. Until recently, limitations of this tilt mechanism have been the inability to be folded for transport and a heavier weight than non-folding wheelchair bases.
In summary, when attempting to match specific client needs to a manual tilt-in-space wheelchair one should consider the unique benefits and limitations of each type of tilt mechanism. Each of the three predominant tilt mechanisms affords unique characteristics of available tilt range, footprint, transportability, and propulsion. Additionally, manufacturers continue to develop innovative technology to provide improved solutions and address limitations within each of these tilt categories. RM
Deborah L. Pucci, PT, MPT, is a Clinical Director for Ki Mobility. For more information, contact [email protected].
---
Related Content:
New Tilt-in-Space Wheelchair Brings Independent Mobility to Stroke Survivors
CRT Checklist for Making Healthy Choices
A Holistic Approach to Complex Rehab