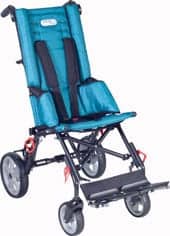 Ottobock, Minneapolis, has launched a new, lightweight pediatric stroller designed to enhance transport convenience. The Kimba Kruze pediatric stroller can be folded down, providing a low-profile, compact package. The stroller is also height adjustable, featuring a foldable footrest, backrest, and height extension in an effort to allow the product to grow with the user.
The product offers users a five-point padded harness engineered to provide comfort and optimal positioning. The Kimba Kruze's larger wheels aim to ensure a smooth, stable ride over a range of surfaces and also feature wheel lock security. The pediatric stroller is marketed in four sizes and is intended to accommodate children who weigh up to 165 pounds.
For more information, visit www.ottobockus.com.
[Source: Ottobock]