Applying seating and positioning fundamentals to build complex rehab technology solutions that protect end user health
by Caitlin Boland, PT, DPT, NCS, CBIS
Complex rehab technology (CRT) refers to the wide spectrum of devices that are medically necessary and customizable in order to fulfill the needs of the end user. Individuals who may benefit from CRT include those with impaired mobility or function that live with a congenital disorder, progressive or degenerative neuromuscular disease, or an injury or trauma.1 Proper prescription of CRT requires a thorough evaluation, configuration, fitting and adjustment. CRT is designed to meet specific and unique needs of individuals with disabilities with the goal to replace or enhance function, while providing support surfaces including head, back, arm, seat and leg supports.1-3 By better understanding and selecting mobility and positioning equipment, medical providers including physical and occupational therapists can help protect end users from negative effects to the musculoskeletal and integumentary systems.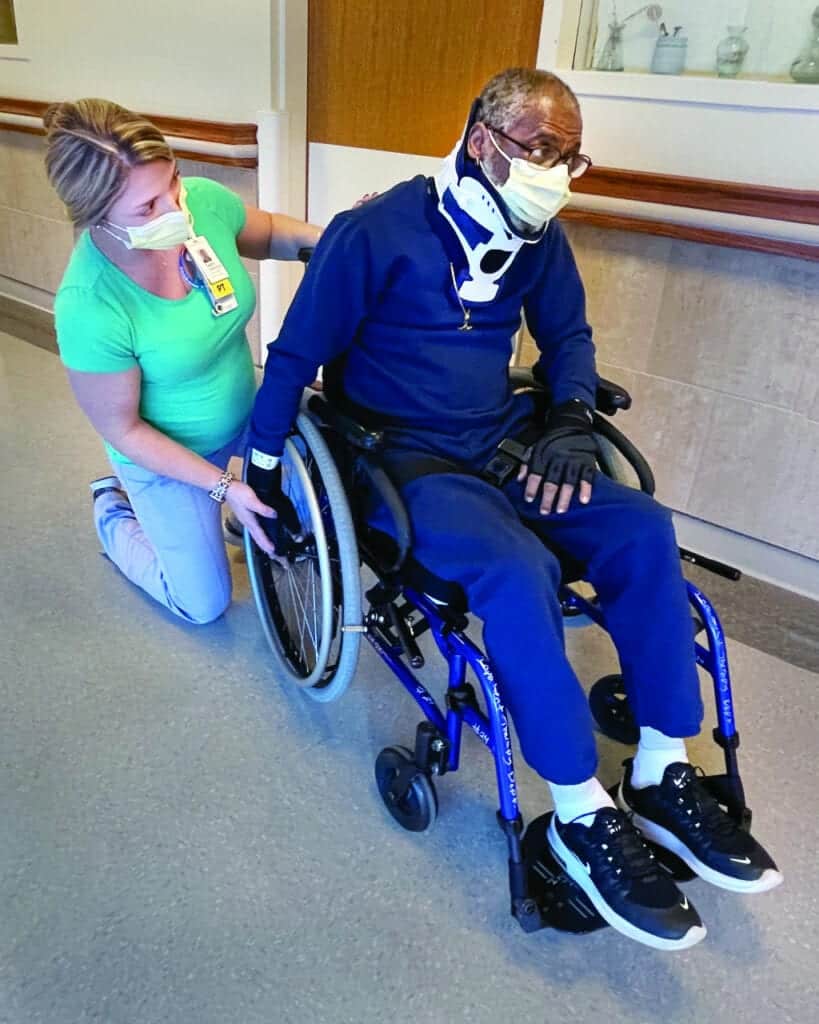 Wheelchair Cushions and Back Supports
Common seating goals for end users include, but are not limited to: comfort, pressure distribution and management, positioning, function, comfort, stability, heat and moisture dissipation and vibration dampening.4,5 Understanding these goals is of paramount importance with regard to selection of the appropriate seat back and cushion material. Upon evaluation, trial, simulation and pressure mapping assessment are often completed to assist in determining the most appropriate seat cushion and back support for the end user. Common support surface materials and functions are listed below:
Foam4: Foam is classified as open-cell or closed-cell. Open-cell foams allow airflow between membranes, which allow for greater ventilation, while closed-cell foams have internal structures that are encapsulated in a membrane, making them denser with less airflow. Open-cell foams do tend to absorb fluid, making them more difficult with regard to maintenance of hygiene. Viscoelastic foam and matrix have higher viscosity and are slow to return to their original non-compressed state; they also present with good envelopment and improved thermal qualities as compared to polyurethane or latex foams. Foam cushions and back supports can be made available in both flat and contoured designs. It is important to note that when a foam is too soft, this can result in rapid "bottoming out" of a seat cushion or back support, resulting in increased pressure, specifically through bony prominences, and thus increased risk of an end user for skin breakdown.
Elastomer5: An elastomer is a polymer shaped into a "honeycomb." The honeycomb responds similar to foam when a user sits on it. Similar to foam, the honeycomb can be contoured by the cushion manufacturer. Cushions comprised of this material are typically lightweight and easy to clean.
Fluid4-5: Fluid works by moving within its container to come to a constant, equal pressure over the entire surface. Manufacturers will often use segmentation in the design of the fluid packs to control the flow of the fluid. Segmentation also reduces the surface tension of the fluid pack to allow for immersion. Fluid provides better skin temperature control than other materials by conducting heat away from the skin. Of consideration, some fluids may freeze if left in a particularly cold environment; for this reason, extreme temperatures should be avoided. Fluid also offers skin protection through its ability to adjust to body movements. Adjustment to body movements reduces the shearing forces that would otherwise be present through horizontal shearing forces on the cushion. Intermittent kneading or massaging of fluid is required to ensure proper functioning. It should also be noted that fluid-filled cushions are often heavier than cushions comprised of other materials.
Gel4: Gel is a semi-solid material which is made of silicone, polyvinyl chloride. Gel does not allow sufficient displacement of the material for an end user to fully immerse into the material. Gel has been found to be effective in preventing shear. Gel can be easy to clean, but like fluid-filled support surfaces, gel support surfaces can be heavy and difficult to repair. Gel surfaces do lack airflow for moisture control and can increase skin temperature after prolonged positioning.
Air4: Air-filled support surfaces are made of sealed compartment membranes that hold air. Air-filled support surfaces can be comprised of a singular chamber or may be divided into multiple compartments to allow for airflow. These types of cushions allow for pressure to move from high to low pressure areas. Air-filled cushions allow for immersion of the end user into the surface. Initial adjustments of inflation pressure are important to establish proper immersion of the body into the cushion. Air-filled support surfaces are lighter in weight than most other support surfaces. They can, however, be more difficult to maintain or repair and are more at risk for puncture or tear. Air-filled support surfaces are often more unstable, which can negatively affect an end-user's balance, stability and function.
Oftentimes, support surfaces can be comprised of a combination of the above materials. It is important to note that the above support surfaces work well only if properly used, maintained, and replaced. As individuals age, changes in the skin may increase vulnerability to pressure ulcer development. The Consortium for Spinal Cord Medicine Clinical Practice Guidelines recommends a routine cushion reassessment every 2 to 3 years in order to ensure that the currently used cushion is appropriate and to determine if a change is indicated. They also recommend that a support surface should be inspected and maintained regularly.4
Positioning Equipment
Head Supports: Proper head support is a crucial component for an end user to ensure a high quality of life as the position of the head can affect common activities and daily functions such as socialization and communication, swallowing, respiration, attention to task and mobility.6 When considering a head support, a posterior head support is usually the simplest and least restrictive, and should be considered first. The pad is meant to be positioned in the sub-occipital area with the goal to prevent excessive extension, rotation, or lateral flexion.6 If deemed appropriate, lateral head supports can also be added.
Upper Extremity Supports: Depending on an end user's positioning needs and function, arm supports can be desk versus full-length and fixed versus adjustable height. Moreover, they can be fully removable, versus flip back or swing-away. If an end user presents with decreased functional use or poor positioning of an upper extremity, an arm trough or lap tray may also be recommended. Spasticity and skin integrity should also be considered as padding may be required.
Lateral Trunk Supports: Lateral trunk supports should be considered if an end user presents with a flexible or semi-flexible postural abnormality. When considering a lateral trunk support, it is important to note skin integrity as well as ability of the end user versus caregiver to manage the trunk support and allow for safe transfers. If an end user presents with a fixed postural abnormality, lateral trunk supports may be ineffective and a custom molded seating system should be considered.
Positioning Belts/Harnesses: Pelvic and chest positioning belts or harnesses can help to secure the end user into the optimal position. Padding should be considered with bony prominences or with an increased risk for skin breakdown. Latch style is also dependent on the end-user's level of function and ability to independently manage the above.
Pelvic/Thigh Supports: Pelvic and thigh supports should be considered when the seating system cannot provide enough stability, function and comfort for the end user.7 These supports can be added laterally as "pelvic or thigh guides" or medially as "adductor guides" depending on the end user's needs. Examples of times when end users may additionally require pelvic or thigh supports include: abnormal tone (hyper- or hypotonia), reducible postures, progressive diagnoses and accompanying muscle fatigue and decreased pelvic stability and alignment.7
Lower Extremity Supports: Lower extremity supports can be elevating/articulating or fixed at a certain angle. If the end user presents with edema or compromised circulation, elevating/articulating leg supports may be warranted. Lower extremity range of motion, tone and strength deficits should also be considered when prescribing appropriate lower extremity supports. Footplates can be fixed or adjustable angle, again dependent on lower extremity range of motion and tone.
Repetitive Strain Protection
Prolonged manual wheelchair use can lead to pain and repetitive strain injury (RSI) of the upper extremities, including carpal tunnel or rotator cuff injuries. Up to 71% of manual wheelchair users have experienced shoulder pain related to overuse at some point in their lives.8 In order to minimize these injuries, the first step is to customize a manual wheelchair upon evaluation and fitting to ensure it is the lightest weight and closest fit to the patient as possible. Along with overuse, poor positioning and incorrect propulsion technique are leading factors in the onset of RSI.9
One of the most important aspects of wheelchair evaluation and configuration is the rear axle placement. The axle placement can help to optimize biomechanics and set up for the best possible push stroke. For the smoothest ride with the least resistance, the end user's weight should be directly over the push wheels, Seat height can also help or hinder the end user's efficiency with propulsion; the middle finger should extend just past the axle for the best efficiency.9 Tools/sensors are further available to conduct computerized motion analysis in order to determine an end user's efficiency with regard to manual wheelchair propulsion as well as to provide useful feedback and education to the end user. The information obtained through the analysis can be used to examine the stress placed on the upper extremities.10
Lastly, there are power assist options for manual wheelchair users that allow reduced strain on the upper extremities. Power assist is the use of technology to assist with the propulsion of a manual wheelchair and can come through the wheels or as a removable add-on to the wheelchair.9 The power assist option is especially useful for end users in less-than-perfect conditions including on uneven terrain and with upper extremity weakness or increased weight, to name a few examples.
Power Wheelchairs
When choosing a power wheelchair for the end user, there are many options to consider. The first thing that should be considered is the drive configuration. Mid-wheel drive configuration allows for the smallest turning radius. Front wheel drive configuration is best for outdoor terrain or for tight indoor spaces.
Power wheelchair functions, including tilt, recline, elevating/articulating leg supports, power seat lift and standing, are options that can help to enhance an end user's overall comfort, function, and quality of life. Tilt and recline functions are especially important if an end user has skin breakdown, spasticity, range of motion limitations, sensory impairments, decreased sitting tolerance, fatigue, and/or pain. Elevating/articulating leg rests are useful with medical conditions including orthostatic hypotension and edema. Multiple studies have found the best results for pressure relief with use of a combination of power tilt, power recline, and elevating/articulating leg rests.11
Anterior tilt can assist an end user with progression from a seated position to a standing position. A power seat lift or standing function can grant the end user improved access to items within the home including countertops and cabinets. Moreover, standing can have many positive health benefits, including bone and joint health, improved bowel and bladder function, pain and/or spasticity reduction, prevention/reduction of muscular atrophy, and respiration.
Drive control methods should be determined based on assessment as well as trial. Standard joysticks are commonly used. However, if an end user has limited upper extremity function or varying levels of fatigue, other methods such as sip and puff, head array, or chin control can also be considered. Attendant control options are also necessary if end users present with poor activity tolerance, fatigue, and/or medical issues that may prevent them from independently operating a power wheelchair.
Conclusion
In summary, there are many considerations when evaluating an end user for CRT. The evaluation should be thorough and assessment and follow-up ongoing in order to ensure the best outcome. The team of clinicians should have a strong understanding of mobility and positioning equipment to maintain end users' health and protect them from negative effects to the musculoskeletal and integumentary systems. RM
Caitlin Boland, PT, DPT, NCS, CBIS, is a Level III Inpatient Physical Therapist for Gaylord Specialty Healthcare, Wallingford, Conn. Boland received her Bachelor of Health Science and her Doctoral Degree in Physical Therapy from Springfield College and is certified as a Neurologic Clinical Specialist through the APTA. She is also a Brain Injury Specialist through the Brain Injury Association of America. For more information, contact [email protected].
This article appeared in the March/April Rehab Management under the title Healthy Choices for CRT.
References
National Coalition for Assistive and Rehab Technology (NCART). The Complex Rehab Technology Company.
Numotion. About Complex Rehab Technology (CRT). Available at: https://www.numotion.com/what-to-expect/about-complex-rehab-technology. Accessed December 31, 2020.
RESNA. Wheelchair Service Provision Guide. Available at: http://www.rstce.pitt.edu/RSTCE_Resources/RESNA_PP_WSProvisionGuide2011.pdf. Accessed January 1, 2021.
Consortium for Spinal Cord Medicine Clinical Practice Guidelines. (2000). Pressure Ulcer Prevention and Treatment Following Spinal Cord Injury: A Clinical Practice Guideline for Health-Care Professionals. Paralyzed Veterans of America.
Sherman S. (2011, November). Skin Protection and Cushion Materials. Retrieved from: http://www.sunrisemedical.ca/dealer-clinician-tools/education-in-motion/clinical-corner/november-2011/skin-protection-and-cushion-materials. Accessed January 1, 2021.
Permobil. Justification for Head Supports. Available at: https://hub.permobil.com/blog/justification-for-head-supports. Accessed January 1, 2021.
Permobil. Clinical Applications and Justification for Lateral Upper Leg (Thigh) Supports. Available at: https://permobil.ca/clinical-applications-justification-lateral-upper-leg-thigh-supports/. Accessed January 2, 2021.
Mason B, Warner W, Briley S, Goosey-Tolfrey V, Vegter R. Managing shoulder pain in manual wheelchair users: a coping review of conservative treatment interventions. Clin Rehabil. 2020:34;741-753.
Permobil. Shoulder Pain and Manual Wheelchair Use. Available at: https://hub.permobil.com/blog/shoulder-pain-and-manual-wheelchair-use. Accessed January 3, 2021.
Cooper RA, Boninger ML, Robertson RN. Heavy Handed: Repetitive Strain Injury Among Manual Wheelchair Users. Team Rehab Report. 1998;9;35-38. Available at: http://www.innovationshealth.com/wp-content/uploads/2014/04/Heavy-Handed-Repetitive-Strain-Clinical-Study.pdf. Accessed December 31, 2020.
RESNA. RESNA Position on the Application of Tilt, Recline, and Elevating Leg Rests for Wheelchairs. Available at: http://www.rstce.pitt.edu/RSTCE_Resources/Resna_Position_on_Tilt_Recline_Elevat_Legrest.pdf. Accessed January 4, 2021.
Glickman LB, Geigle PR, Paleg GS. A systematic review of supported standing programs. J Pediatr Rehabil Med. 2010;3(3):197-213.
Knee Tilt Wheelchair: 3 Things You Don't Know
Functional activity facilitation, postural support, and shear force reduction are among this model's strengths
by Deborah L. Pucci, PT, MPT
More than 795,000 people in the US suffer a cerebrovascular accident (CVA) annually, reducing mobility in more than half of those over age 65.1 Many of these individuals are diagnosed with hemiplegia or hemiparesis and require the use of a wheelchair for mobility. In addition to mobility, they could benefit from a wheelchair with the ability to adjust seat angles for postural support, for maintaining tissue integrity, and for varying positions for specific activities. Manual tilt-in-space wheelchairs can address many of these seating and mobility needs but are often not prescribed due to perceptions that they are heavy, difficult to transport, and cannot be set up for independent propulsion.
One particular type of manual tilt-in-space wheelchair, the knee tilt, has a relatively small footprint, can be lighter weight and easier to transport, and can be set up to facilitate the foot or hemi-propulsion used by many individuals following CVA. The axis of rotation of a knee tilt affords the ability to set the seat angle without raising the front seat height so a foot propeller can achieve functional independent mobility. When well-configured, a knee tilt can allow seat angle adjustments to provide postural support against gravity and maintain a more stable posture when foot propelling. It also can facilitate the ability to create various positions for functional activities, such as proper head alignment for safe swallowing, adequate reach for tabletop activities, and improved biomechanics for transfers.
Knee tilts, however, are often disregarded due to smaller tilt ranges than rotational tilt chairs and the belief that a large tilt range is necessary for pressure relief and tissue integrity. Research suggests that smaller tilt ranges may be sufficient for some wheelchair users. Smaller ranges of tilt have been shown to be effective in both reducing shear forces3,1 and increasing superficial blood flow at the ischial tuberosities.4 Additional research has demonstrated that individuals seldom use tilt ranges beyond 29 degrees.5 NPIAP has updated its guidance for seated individuals. It focuses more on developing an individualized plan that incorporates dynamic weight shifts and promotes early mobilization and activity more than recommending specific tilt ranges.1
For many individuals post CVA the range of a knee tilt is adequate to maintain tissue integrity, and the ability to vary seat angles has the potential to positively impact posture, mobility and function. For these reasons, a knee tilt should be given more consideration as a mobility option for individuals following CVA. RM
References
Benjamin E.J, Blaha MJ, Chiuve SE, et al. Heart disease and stroke statistics—2017 update: a report from the american heart association. Circulation. 2017;135(10).
European Pressure Ulcer Advisory Panel, National Pressure Injury Advisory Panel, & Pan Pacific Pressure Injury Alliance. (2019). Prevention and treatment of pressure ulcers/injuries: Clinical practice guideline: the international guideline 2019. National Pressure Injury Advisory Panel
Hobson DA. Comparative effects of posture on pressure and shear at the body-seat interface. J Rehabil Res Dev. 1992;29(4):21. https://doi.org/10.1682/JRRD.1992.10.0021
Sonenblum SE, Sprigle S. Distinct tilting behaviours with power tilt-in-space systems. Disabil Rehabil Assist Technol. 2011;6(6):526–535.
Sonenblum SE, Sprigle SH. The impact of tilting on blood flow and localized tissue loading. J Tissue Viability. 2011;20(1):3-13. https://doi.org/10.1016/j.jtv.2010.10.001