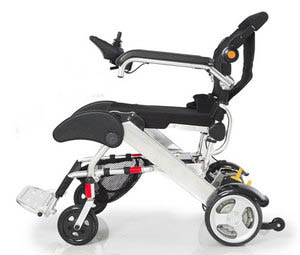 Attendees of the San Jose Bay Area's Abilities Expo will see the rollout of a 50-pound foldable wheelchair from Miami-based KD Smart Chair. The KD Smart Chair is reported to be an FDA-cleared mobility device, made with an aluminum alloy frame with a weight capacity of up to 265 pounds. It is features Lithium-ion batteries designed to offer travel up to 15 miles.
The size of this device aims to build greater convenience into travel by automobile, bus, train, and cruise ship with adjustable arm rest and joystick.
Other features for this new product include a removable seat and seat cover, dual wheel brushless motors, and a joystick that can be mounted on left or right side arm rest.
Roland Reznik, vice president of KD Smart Chair, states, "We are very excited about attending the Abilities Expo and exhibiting as well. This is our first time at this expo, and we look forward to introducing our KD Smart Chair brand as well as look forward to meeting everyone at this event."
The San Jose-area Abilities Expo is scheduled to run November 21-23 at the San Jose McEnery Convention Center.