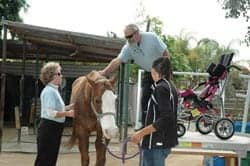 In an effort to assist the Equine Assisted Activities and Therapies (EQUIP) program at the Yorba Linda, Calif-based Rocking T Ranch, Convaid, Inc Torrance, Calif, reports that it has donated two lightweight Scout and Cruiser wheelchairs to help train the facility's horses for the program. The integration of wheelchairs is key, according to a recent news release, and is intended to allow the horses to feel comfortable around the equipment used by students in the EQUIP program.
Kehrer says the Convaid wheelchairs are ideal for the ranch, "Horses are very fearful animals and anything out of the ordinary can really frighten them. Part of training them for EQUIP is getting them use to wheelchairs and other equipment that clients might bring to the ranch," Kehrer explains.
The clientele served by Rocking T Ranch includes individuals with cerebral palsy (CP), Autism, ADD, ADHD, Rett Syndrome, visual impairments, hearing impairments, and social, emotional, and behavioral disorders. The release notes that Gary Mullen, EdD, introduced the EQUIP program to Rocking T Ranch one year ago. Mullen has also developed two similar programs.
Jim Tice, executive director, and Maggie Kehrer, PATH International Instructor, offer lessons at the ranch designed to meet the unique requirements of each special needs client. The lessons incorporate ground and riding activities, with many sessions ending in interaction with farm animals as well. The release notes that the experience is intended to provide multiple benefits, including improved balance, coordination, social interaction, hand-eye coordination, and increased attention span.
"The EQUIP Program really does enhance the lives of special needs children. We are more than happy to be involved with this special program," Chris Braun, president, Convaid, emphasizes.
For more information about the Rocking T Ranch and the EQUIP program, click here
Source: Convaid, Inc