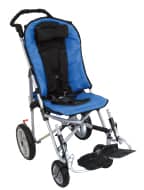 Convaid, headquartered in Torrance, Calif, reports that it has joined with Mending Kids International (MKI) to donate a Cruiser wheelchair to one of MKI's recent cerebral palsy (CP) patients in Guatemala. MKI is a non-profit organization that aims to provide lifesaving surgical care to children worldwide. The recipient of the Convaid wheelchair, Danielito, aged 8 years old, received assistance from the MKI during his recent rhizotomy, according to a Convaid news release.
Chris Braun, president, Convaid, articulates the company's excitement in helping Danielito and also in forming a relationship with the Los Angeles-based MKI. Braun notes that the company is always seeking to pinpoint new ways to help children in developing countries, adding that, "We are glad we were able to start a relationship with an amazing organization like MKI that provides medical services for families that otherwise, could not afford them…"
Marchelle L. Seller, executive director, MKI, emphasizes the company's gratitude to Convaid for the donation, adding that the donation serves as an example of how two organizations that work together can bring a child more independence and a true life change.
The release notes that the donation is part of Convaid's community outreach efforts to provide special needs children, adults, charitable organizations, and schools access to compact-folding lightweight wheelchairs.
Source: Convaid