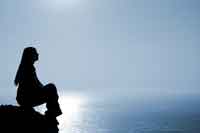 Research presented at the American Academy of Neurology's (AAN) 65th Annual Meeting indicates that individuals with depression following stroke may have a tripled risk of early fatality and four times the risk of stroke-related fatality than individuals who have not sustained a stroke or have depression.
The study encompassed 10,550 participated aged 25 years old to 74 years old, according to a news release. Researchers reportedly followed the patients for a total of 21 years. Among participants, researchers say 73 individuals sustained a stroke yet did not develop depression, 48 individuals had both a stroke and depression, and 8,138 did not sustain a stroke nor developed depression. A total of 2,291 participants did not have a stroke but had depression, researchers add.
The study's results suggest that following the consideration of factors including age, gender, race, education, income level, and marital status, the risk of fatality from any cause was three times higher in participants who had stroke and depression when compared to individuals who had not had a stroke and were not depressed.
"This is something family members can help watch for that could potentially save their loved one," says Amytis Towfighi, MD, Keck School of Medicine of the University of Southern California and Rancho Los Amigos National Rehabilitation Center in Los Angeles, AAN member.
Towfighi adds that the research "highlights the importance of screening for and treating depression in people who have experienced a stroke. Given how common depression is after stroke, and the potential consequences of having depression, looking for signs and symptoms and addressing them may be key."
Source: AAN