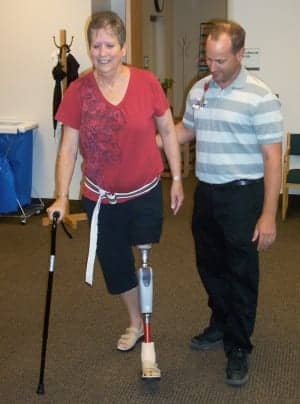 In the United States, above knee amputations make up approximately 25.8% of the total number of lower extremity dysvascular amputation. There is considerable challenge in learning to use an above knee prosthesis.
Amputation of a leg can be a physically and emotionally trying experience for a patient. The location of the amputation will have a tremendous impact on the rehabilitation potential of the patient, particularly as it pertains to ambulation. The above knee amputation is one of the most difficult predicaments in which to return to a safe and functional gait pattern. A successful rehabilitation will typically involve not only a determined amputee, but also a team of dedicated professionals who can apply their knowledge with the right rehabilitation tools.
There are many different reasons for a surgically planned amputation (as opposed to unforeseen traumatic limb loss) including conditions such as complications from diabetes, gangrenous infections, and cancerous proliferation of tissues. Dysvascular diseases that affect the normal blood supply to the extremities make up the majority of new amputations that occur each year. Estimates are that one in every 200 people in the United States has had an amputation with an overall estimate of over 1.7 million people living with limb loss.1 According to Ziegler-Graham et al, above knee amputations in the United States make up approximately 25.8% of the total number of lower extremity dysvascular amputations. This type of amputation can be associated with complications during gait training and mobility, caused by the location and fit of the prosthesis. The challenge of learning to use an above knee (AK) prosthesis is considerable, according to Shane Evans, CPO, Center for Independent Rehabilitation Services (CIRS), Modesto, Calif. Evans, who works extensively with the amputee population, describes the process as "similar to trying to walk through life with stilts on in everyday places of life, over the various inclines and surfaces most of us take for granted."
Following is a case study that describes the physical therapy gait training of Norma, an above knee amputee who lost her left leg due to nondiabetic complications of the vascular system. Norma entered the clinic at Emanuel Medical/Rehabilitation Center with bilateral forearm crutches that were causing pain in her wrists, shoulders, and hands. Her goal was to walk with one hand free. Norma's prosthesis also caused discomfort due to phantom pain and wound site tenderness. The rehab team understood it would have to investigate products that could offer improvements to Nora's strength, balance, prosthetic fit, and tolerance to activity. The team found many areas that needed to be changed, and this case study focuses on five areas for which the use of specific equipment and tools helped Norma attain her goals.
PWB-GT VS UNSUPPORTED GAIT TRAINING
Partial weight-bearing gait trainers (PWB-GTs) are devices that provide patient support through a harness system attached to a movable support structure. The devices allow the clinician to safely stand and work toward independent ambulation with patients who cannot support themselves. This is a useful tool for many different levels of support needed and various diagnoses. The confidence that patients gain by using the PWB-GT is considerable. The muscle tension and pain associated with the fear of losing balance and falling is a major impediment to gait progression. The PWB-GT helps patients feel more secure. Patients and therapists can test the unit's capacity to hold them up prior to beginning the exercise session by asking the patient to rest on the harness, then return to standing. The weighted scales on the yoke of the unit also can provide excellent feedback to weight shift evenly during the gait cycle.2
GAIT TRAINER TREADMILL VS STANDARD TREADMILL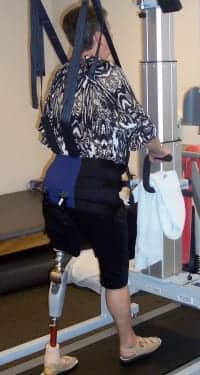 The confidence patients gain by using the partial weight-bearing gait trainer is considerable.
Gait trainer treadmills have features that measure cadence, step length, step width and speed, and incline to provide a means to make gross and fine-tuned adjustments during gait training. The patients quickly learn what the treadmill is measuring and can begin to use the feedback to self-correct and improve their gait pattern and tolerance to activity. The treadmill used in this case study had removable side rails that allowed the therapy team to roll the PWB-GT into the treadmill smoothly. This is an important detail to measure prior to acquiring a PWB-GT.
OVERHEAD MECHANICAL LIFT DEVICES VS MANUAL TRANSFER TECHNIQUES
Technology has impacted the health care environment in everything from electronic documentation to the weight and precision of equipment. It is only appropriate these advances be applied to the mobilization of patients. Labor-intensive, multiple person assist transfers are no longer necessary and have never been prudent.4 Injuries related to patient mobilization are unnecessary, costly, and potentially life-changing. Manual mobilization also can be dangerous and stressful for the patients. Mechanical lifts provide a win-win for the patients and caregivers for safe patient handling. Many hospitals are transitioning to the use of mechanical lift systems, including those designed to safely harness a patient to a ceiling-mounted tracking system and transport the patient from bed to a chair, gurney, commode, or even another room.4 New hospitals are including mechanical lifts in the patient rooms in response to the growing bariatric population and safe patient handling legislation that has mandated the use of mechanical lifts over manual transfer techniques.5 The setup and operation of these lifts have improved over the years and, with proper training, can be performed by skilled and nonlicensed practitioners. Patients and their families feel safe when patients are handled with care by confident caregivers using proven and reliable equipment.
ERGONOMIC GRIP CRUTCHES VS STANDARD FOREARM CRUTCHES
Forearm crutches are commonly used by amputees for ambulation. It provides a stable means of walking and provides better accessibility and clearance compared to using a walker. Even with the forearm cuffs, the user is required to put an excessive amount of weight through their hands to support themselves. This can cause undue stress and, in some cases, debilitating pain that will adversely affect endurance and tolerance to walking. There are crutches that provide a more even and comfortable distribution of body weight through the hands by using a more ergonomic and orthopedic design. In this case, it allowed for better endurance and agility during gait activities. Norma has experienced increased pain throughout her upper extremities using conventional forearm crutches and standard handle canes. The handles were made of hard plastic and resin that concentrated the majority of weight forces in a small area of her hand. After reviewing various products designed to be more ergonomic, we were able to fit Norma with orthopedic grip forearm crutches and, as she progressed, to a similar grip single point cane. The grips were made of a firm but more comfortable rubber that dissipated the ground forces over a larger surface of the hand. This provided greater comfort and increased walking tolerance.
ORTHOPEDIC GRIP CANE VS STANDARD SINGLE POINT CANE
Assistive devices such as walkers, crutches, and canes help to reduce fall risk by providing a wider and more stable base of support. The point of contact on these devices is the hands with forces being transferred immediately to the wrist. This is very limiting in that the patient can no longer have their hands free to hold objects and assistive devices can be difficult in tight places and narrow corridors. The amount of weight and stress placed on the hands and wrist with a standard single point cane can cause pain, swelling, and cumulative injuries.3 Chronic overuse conditions such as carpal tunnel syndrome can arise and further limit walking capacity and tolerance to activity. Norma also experienced this problem with her standard cane. Her tolerance was increased and her pain diminished with the use of an ergonomic grip cane.
COMPUTERIZED AK PROSTHESIS VS MECHANICAL PROSTHESIS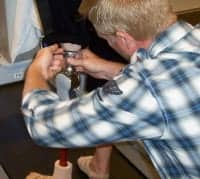 Interdisciplinary discussions between therapists and prosthetists can provide excellent feedback.
Computerized prosthetic devices, also known as C-Legs, make use of the technology designed to provide a more efficient gait pattern and energy conservation during ambulation. The latest models of this equipment are designed to be light, and have a more precise socket fit as a result of the devices' computer assisted design (CAD). The computerized joints of the prosthetic knee provide increased sensitivity and allow for more precise adjustments of the leg during the various phases of the gait cycle. Gait symmetry improved, as evidenced with more even stride lengths and widths and a normalized cadence. Her confidence during her prosthetic limb stance phase (heel strike, foot flat, and toe off) literally improved with each step. As is often the case, learning to "trust" the leg can be half the battle with prosthetic gait training.
SUMMARY OF PROGRESS
The "Aha" moment of rehabilitation came when Stephen Rodenburg, PTA, Emanuel Rehabilitation/Medical Center, asked Norma to walk independently (without an assistive device). She had only recently been walking on the treadmill with the PWB-GT with virtually no support. The harness tension was decreased to the point of almost no support and the handrails of the treadmill were only there if she needed them; however, she no longer needed them. Unbeknownst to Norma, she was already walking independently. Now, with the confident assurance provided by the rehab staff, Norma was ready to stand up and walk unsupported. From her seated position on the mat, Norma leaned forward and stood up with minimal effort. She relaxed and placed her left prosthetic limb in front of her. She then shifted her weight slightly to the left (over her prosthetic limb) and stepped forward with her right leg. Like riding a bike, the next steps became more fluid, relaxed, and natural. Norma's initial appearance of focused intensity gave way to a more relaxed expression of confidence. The computerized prosthetic limb was no longer a foreign contraption attached to her left thigh. Instead, it had become a more natural and normal part of her body.
COLLABORATIVE EFFORT
A second set of eyes is not only beneficial for proofreading and spotting where a golf ball lands, it is also valuable in gait analysis. Calling upon colleagues who can observe and analyze a patient's gait deviations and tendencies will save time and optimize treatments. The prosthetist and PT assistant can be a physical therapist's best resources in helping to identify the source of problems and making adjustments to either the equipment or the patient. Utilizing the networking support of gait training device manufacturers is also an ideal way to learn about better interventions beyond those published in a manual, as well as the opportunity to discuss the nuances encountered when working with different sizes of patients and their various conditions. This type of collaboration, as well as the interdisciplinary discussions with professionals such as the physical therapist and the prosthetist, provides excellent feedback and optimizes treatment plans.
The PWB-GT was not even considered necessary or useful until another colleague saw the potential for building confidence as well as balance and strength. Because of pain, a previous ill-fitting prosthesis, and health setbacks, Norma had all but given up on her goal of walking with one hand free. Now, with the proper prosthetic fit, improved health, and proper equipment and therapeutic intervention with which to train, Norma is getting closer to realizing this goal. The initial cost of the equipment is well worth the benefit for the patient's health, and in achieving better overall functional mobility outcomes.
---
Anthony Salafia, PT, DPT, MA, CSCS, is the physical therapy supervisor at Emanuel Medical/Rehabilitation Center in Turlock, Calif. He is also adjunct faculty in the Kinesiology Department at California State University, Stanislaus. For more information, contact .
References
Ziegler-Graham K, Mackenzie EJ, Ephraim PL, Travison TG, Brookmeyer R. Estimating the prevalence of limb loss in the United States: 2005 to 2050. Arch Phys Med Rehabil. 2008;89(3):422-9.
LiteGait Guide to Partial Weight Bearing Gait Training. LiteGait, Scottsdale, Ariz.
Chiou-Tan F, Magee K, Krouskop T. Comparison of upper limb muscle activity in four walking canes: a preliminary study. J Rehabil Res Dev. 1999;36:94-99.
[removed]www.nursingworld.org/MainMenuCategories/Policy-Advocacy/State/Legislative-Agenda-Reports/State-SafePatientHandling/Enacted-Legistation[/removed]