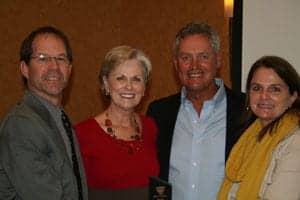 The title of 2012 USTA Southern Wheelchair Tournament of the Year has been awarded to the Walton Foundation for Independence's annual Wheelchair Tennis Championship, the foundation reports in a recent news release. The organization received the distinction on January 12 during the annual meeting of the United States Tennis Association Southern Section and the USTA Southern J. Randolph Gregson Awards Ceremony, Atlanta.
The release notes that the section is comprised of Georgia, South Carolina, North Carolina, Kentucky, Tennessee, Alabama, Mississippi, Arkansas, and Louisiana, representing one-quarter of the entire USTA membership.
Alice Salley, associate development officer, Walton Foundation, characterizes the award as a "wonderful honor, particularly as we are only in the second year of offering this tournament." Salley adds that over the years, the Walton Foundation has continually sought to provide wheelchair tennis and other adaptive sports opportunities to those with disabilities in the CSRA, "and we are both proud and excited to continue in this role," Salley says.
According to the release, players across the region are invited to participate in the Walton Foundation's 3rd Annual Wheelchair Tennis Tournament, which is slated for August 2 to 4. The foundation adds that the event will include a run/roll event open to the community and doubles exhibitions featuring wheelchair and upright tennis players.
For more information contact [email protected]
(Pictured above, right, listed from left to right: Geoff Norton, Walton Foundation Wheelchair Tennis Championship Tournament Director; Vicki Greene, Vice President, Walton Foundation; Tom Gullickson, former professional tennis player; and Alice Salley, Associate Development Officer, Walton Foundation)
Source: Walton Rehabilitation