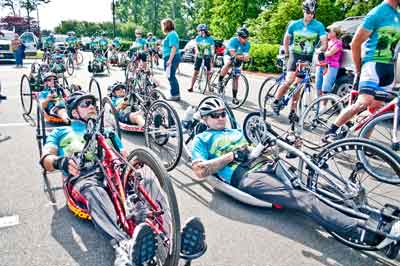 Riders with physical disabilities, support cyclists, and volunteers are set to engage in the 2013 "Cycle to the Sea" event, April 25 to 27, announces a recent news release. The ride, which is held every spring, is designed to raise funds and awareness for the Adaptive Sports & Adventures Program (ASAP) of Carolinas Rehabilitation.
Athletes with physical disabilities riding on handcycles and/or tandem bikes will embark on the 180-mile ride, which stretches from Charlotte, NC, and North Myrtle Beach, the ASAP reports. The release also notes money raised for the event will be used to support a variety of programs for youth and adults with physical challenges in the Charlotte community and surrounding areas at little or no cost to the participants. These programs include golf, wheelchair tennis, handcycling, quad rugby, snow skiing, water skiing, fishing, swimming, and kayaking.
To participate in the event, the ASAP adds that each rider must obtain individual pledges.
The ASAP, based out of Carolinas Rehabilitation in Charlotte, NC, aims to provide instruction and opportunities for individuals with physical disabilities to participate in sports, recreational activities, and outdoor adventures. Those who participate in the program include individuals with spinal cord injury (SCI), brain injury, cerebral palsy (CP), multiple sclerosis, stroke, amputations, and more.
For more information, contact ASAP staff at [email protected]
Source: ASAP