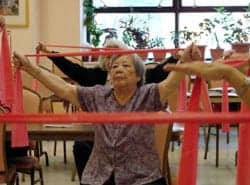 A recent study suggests Hospital for Special Surgery's (HSS) exercise program, offered in senior centers in New York City's Chinatown and Flushing, Queens communities, assisted in decreasing pain, improving mobility and enhancing the overall health of participants. Bilingual instructors at four senior centers in Chinatown and Flushing, New York, conducted a total of six 8-week sessions of the Arthritis Foundation Exercise Program (AFEP) and three 8-week yoga exercise classes.
The programs are designed to promote self-management of arthritis and other musculoskeletal conditions through exercise. The programs are also reportedly part of the Asian Community Bone Health initiative set forth by HHS. The initiative features culturally-relevant, bilingual education, and exercise classes. It was developed to enable the hospital to meet the musculoskeletal health needs of Asian older adults living in New York City. According to a news release from HHS, the older adult Asian population in New York City grew by 64% from 2000 to 2010.
In addition to the risk of osteoarthritis and osteoporosis, the population, according to Laura Robbins, DSW, senior vice president of Education and Academic Affairs at HHS, "are more than twice as likely to have no health insurance coverage compared to other major race and ethnic groups. Culturally and linguistic barriers limit access to healthcare services."
The release notes that the program was offered between November 2011 and September 2013 and encompassed 199 participants. Participants received a survey both before and after the exercise classes to evaluate pain, function, and other health indicators. All 199 participants responded. The primary goal of the AFEP sessions centered on assisting Asian older adults in decreasing musculoskeletal pain, stiffness and fatigue, improving balance, reducing falls, and increasing physical activity.
According to the survey, 48% fewer participants had pain on a daily basis after completing the program. A total of 69% more participants could climb several flights of stairs after the program and 83% more participants could bend, kneel, or stoop. Survey results also indicate that 50% more participants could lift or carry groceries, 39% felt the program reduced their fatigue, and 30% felt that the program reduced their fitness.
Photo Credit: HHS
Source: HHS