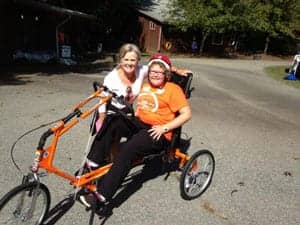 Walton Foundation for Independence recently purchased adaptive bikers for campers at Camp To Be Independent (TBI). The purchase, the foundation says, was made possible by funds raised by the local community through the Phil S. Harison Memorial Golf Classic. Camp TBI is the foundation's annual summer camp designed for children and young adults with acquired brain injury.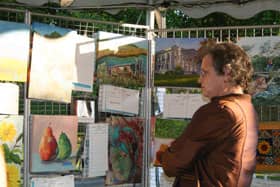 A news release from the foundation also states that the bikes will benefit other camps that use Rutledge, Georgia's Camp Twin Lakes facility. Camp TBI has also seen funding from Eric Dykes, CEO, UTG. Dykes ride in the Spin for Kids fundraiser, which benefitted Camp TBI on October 20. Additionally, through his personal fundraising, the foundation reports Dykes has raised more than $15,000 for Camp TBI during the past three years.
Walton Foundation for Independence aims to restore hope and independence to individuals who require community support following temporary illness, injury, or life-changing disabilities.
Above, Right: Kylie Harris, a camper at Camp TBI.
Above, Left: Paige Smith, program coordinator, and Dan Matthews, director, both of Camp Twin Lakes, with Vicki Greene, VP of the Walton Foundation.
For more information, visit www.wrh.org
Photo Credit: Walton Foundation for Independence
Source: Walton Foundation for Independence