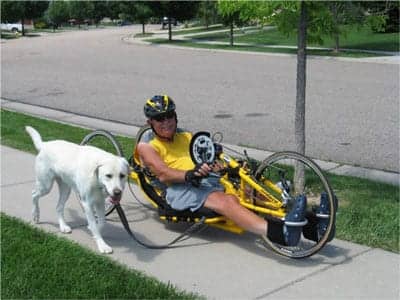 A recent news release announces that Rich Dixon, (pictured right) a paraplegic handcyclist, will begin his ride from "Taos to Tucson" October 1, in an effort to raise funds and awareness for humanitarian causes while also encouraging individuals to overcome adversity. Dixon is slated to speak at the Taos Library in New Mexico at 4pm October 1. Dixon reportedly became paralyzed below the chest in 1987 following a severe fall installing Christmas lights.
The release reports that for Dixon's "Taos to Tucson 2013" tour, he will cycle using only his arms to Tucson, Ariz, during a 4-week journey. Dixon is handcycling to raise awareness and funding for Convoy of Hope, a faith-based non-profit. Dixon states that Taos reflects the hope he wishes to convey during his ride, particularly since the settlement has lasted 1,000 years. "I thought about the adversity those folks had to overcome, the perseverance and determination required to stand firm over time…" Dixon says.
According to the release, Rich's Ride, a 501(c)(3), was launched in 2012 to share Dixon's message of "hope and possibility through handcycling."
For additional information, visit www.richsride.org.
Source: Griffin & Associates Inc