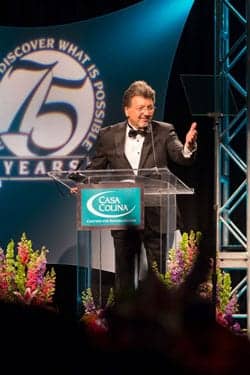 Casa Colina, headquartered in Pomona, Calif, reports that it raised a total of $450,000 during its 75th Anniversary Gala, June 1. The proceeds benefit Casa Colina's Free Care Fund and Wounded Warrior Fund. In a recent news release, the organization expresses its appreciation to its donors and sponsors.
Joan Lunden, former host of ABC's Good Morning America, journalist, entrepreneur, and health and wellness advocate served as the event's special host. Lunden articulates her honor in hosting the event and adds that it celebrated Casa Colina's commitment to those in need and demonstrated why it is a gold standard for comprehensive rehabilitation services.
In the release, Felice L. Loverso, president, CEO, Casa Colina, (pictured right) also thanks Lunden and the event's "generous donors and sponsors who helped make this event such an incredible success. What made this night so memorable was being able to share it with our remarkable patients. We are humbled by their indomitable spirits and amazing recoveries."
Loverso adds that the event will assist the organization in continuing to provide free care and developing the rehabilitation programs needed by the community.
Source: Casa Colina