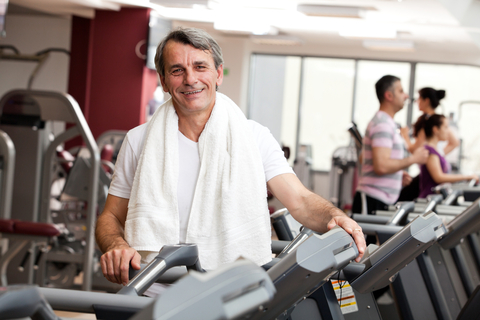 Good fitness in midlife appears help assure brain health as an older adult. According to new research led at Boston University School of Medicine (BUSM) poor physical fitness among people in their 40s is correlated with lower brain volumes among those people by the time they reach age 60 years. The research was recently presented at the American Heart Association EPI/Lifestyle 2015 meeting.
According to Nicole L. Spartano, PhD, lead author and a postdoctoral fellow at the Boston University School of Medicine (BUSM), results of this research study support evidence that particular behaviors and risk factors observed in midlife may actually bring about undesirable consequences as the brain ages, especially among older adults.
The Framingham Offspring Study provided subjects for the focus of study by Spartano and her colleagues. According to a media release from  BUSM, 1,271 participants from the Framingham Offspring Study participated in exercise treadmill testing in the 1970s, when their average age was 41. Beginning in 1999, when the study subjects had an average age of 60 years, they underwent magnetic resonance imaging (MRI) of their brains in addition to cognitive testing. The participants reportedly did not have heart disease or cognitive problems at the beginning of the study, and none were taking medication that alters heart rate.
Among individuals with low fitness levels, the blood pressure and heart rate responses to low levels of exercise are often much higher than in individuals with better fitness.
"Small blood vessels in the brain are vulnerable to changes in blood pressure and can be damaged by these fluctuations," Spartano said. "Vascular damage in the brain can contribute to structural changes in the brain and cognitive losses. In our investigation we wanted to determine whether exaggerated blood pressure fluctuations during exercise were related to later structural changes in the brain."
The researchers found:
People who had a lower fitness level or greater increase in diastolic blood pressure (bottom number) or heart rate a few minutes into the low-intensity treadmill test (2.5 miles an hour) had smaller brain tissue volume later in life.
People who had a larger increase in diastolic blood pressure during low-intensity exercise also performed more poorly on a cognitive test for decision-making function later in life.
Poor physical fitness could be associated with accelerated brain aging.
Spartano and her colleagues concluded that midlife physical fitness may be an important component of a strategy that ensures healthy aging of the brain. Spartano projected that follow-up study among these same subjects in the next decade could reveal who, among them, has developed dementia, and when it may be related to fitness or exercise blood pressure or exercise heart rate in midlife.
[Source: Boston University School of Medicine]