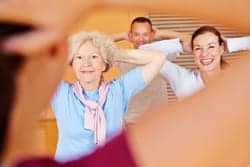 Results from a UK-based feasibility study suggest that Cardiopulmonary Exercise Testing (CPET) assessment and exercise training in older adults bodes well for optimizing preoperative physiological function. The researchers add that the role of exercise training or "prehabilitation" can help counter catabolic effects of surgery and has received little attention in cancer patients. The researchers highlight this as key for cancer patients where radical cystectomy (RC) is linked to significant morbidity.
Systematic reviews indicate that exercise training can improve cardiopulmonary fitness in the short time available for surgery and reduce the risk of postoperative complications, researchers note in the study's abstract. During the study, authors reportedly conducted a randomized controlled feasibility study to determine whether a short preoperative course of supervised exercise sessions is tolerated and whether it can pave the way to improved cardiopulmonary fitness.
A news release from the European Association of Urology total of 30 patients undergoing radical cystectomy were randomized to either control or intervention group following an initial CPET assessment. Patients in the intervention group were provided twice weekly-supervised exercise sessions preoperatively for 4 weeks, while the control group received standard care. The release notes that this was then followed by further CPET assessment in both groups at the end of 4 weeks.
"Even in a short time period there appears to be an improvement in the fitness level in this population," researchers state. The researchers also plan to conduct a larger scale multicenter randomized controlled trial.
Based upon the study's findings, the researchers say, they are in the process of investigating whether the improvement in fitness level translates into improved postoperative outcome with reduced hospital stay.
Source: European Association of Urology